College of Veterinary Medicine announces new class of scholars in Veterinary Training Program for Rural Kansas
Thursday, Feb. 2, 2023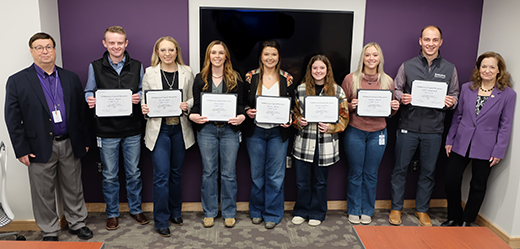 The College of Veterinary Medicine has chosen seven first-year veterinary students to receive the Veterinary Training Program for Rural Kansas scholarship. From left, Associate Dean James Roush, Chance Kopsa, Kenzie Jones, Milan Black, Ryann Allison, Emily Headrick, Madalynn Martin, and Caleb Hildebrand and Hodes Family Dean Bonnie Rush. | Download this photo.
MANHATTAN — Seven students in the College of Veterinary Medicine at Kansas State University have been chosen for the largest veterinary scholarship program offered by the state of Kansas: The Veterinary Training Program for Rural Kansas, or VTPRK.
The new recipients are first-year veterinary students Chance Kopsa, Beloit; Ryann Allison, Fort Scott; Emily Headrick, Kismet; Milan Black, Pratt; Madalynn Martin, Protection; Kenzie Jones, Rolla; and Caleb Hildebrand, Stafford.
"The Veterinary Training Program for Rural Kansas helps retain the brightest and best mixed animal veterinary students in Kansas," said Bonnie Rush, Hodes family dean. "This year, each of these students is a native Kansan who embraces the opportunity to become a rural practitioner in Kansas. Thanks to increased support from the state legislature, we are now able to have seven VTPRK scholars instead of five, providing more veterinarians to serve rural Kansas communities in the future."
The Veterinary Training Program for Rural Kansas was originally passed by the state Legislature in 2006 as a financial incentive to provide rural areas in Kansas with committed veterinarians. It was enhanced in 2022 based on the program's demonstrated success in increasing the availability of veterinary care in rural Kansas. Currently, upon completion of their Doctor of Veterinary Medicine degree, each student is required to work at a full-time veterinary practice in one of 92 Kansas counties with fewer than 40,000 residents. For each year the student works in rural Kansas, up to $25,000 per year of qualifying student loans are forgiven during a period of four years.
To date, 96% of graduates are completing or have completed their loan obligation through service. Graduates who do not complete through service are required to repay the loan. The funds are reinvested through the addition of students to the program. Ninety-three percent of previous graduates who completed their four-year obligation remain in a qualifying county. Seventy percent remain in the practice and community they entered after graduation.
Part of the required training includes the completion of a food animal veterinary certificate. The student scholars also spend time during the summer and breaks in the academic year learning about foreign-animal disease preparedness, natural disaster response, rural sociology, small business management and public health. During their senior year, they will spend three weeks in a rural veterinary practice, applying the principles of small business management to rural veterinary practice.