McCain Performance Series presents a unique Aretha experience
Tuesday, Feb. 28, 2023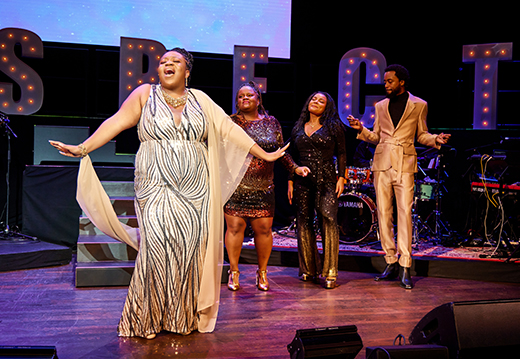 "R.E.S.P.E.C.T." comes to McCain Auditorium on Thursday, March 2, as part of the 2022-2023 McCain Performance Series. Tickets on sale now. | Download this photo.
MANHATTAN — The 2022-2023 McCain Performance Series presents "R.E.S.P.E.C.T." at 7:30 p.m. Thursday, March 2, in Kansas State University's McCain Auditorium.
"R.E.S.P.E.C.T." is a tribute to the legendary Queen of Soul, Aretha Franklin. Honoring the impassioned and transcendent music of one of America's most beloved singer-songwriters, the production journeys through Franklin's courageous life of love, tragedy and triumph. The performance features a live band, supreme vocalists and a night of music by one of the greatest artists of all time, including the songs "Natural Woman," "Think," "I Knew You Were Waiting for Me," "Chain of Fools" and "Respect."
Tickets are available online at mccain.k-state.edu or at the ticket office in the newly expanded McCain lobby from noon to 4 p.m. Wednesday through Friday. Tickets are also available by phone 785-532-6428 during the same hours. Kids 17 and younger get 50% off the general price of admission.
For more information, email mccain@k-state.edu.