Actors From The London Stage bring 'Romeo and Juliet' to the McCain Performance Series
Monday, Jan. 30, 2023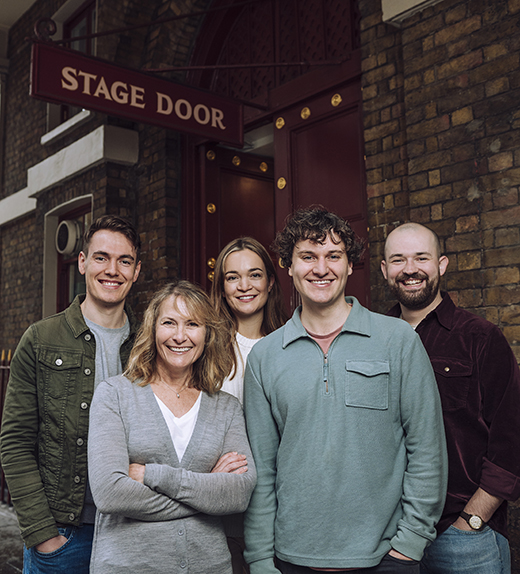 The star-crossed lovers of "Romeo and Juliet" bring high drama to the McCain Performance Series stage. From left, Thomas Wingfield, Hilary Maclean, Grace Andrews, Jonathan Oldfield and Kaffe Keating, with Actors From The London Stage, perform at 7:30 p.m. Saturday, Feb. 11, at McCain Auditorium. Tickets are on sale now. | Download this photo.
MANHATTAN — The 2022-2023 McCain Performance Series hosts its first dramatic play of the spring season when Actors From The London Stage perform Shakespeare's "Romeo and Juliet" at 7:30 p.m. Saturday, Feb. 11, in Kansas State University's McCain Auditorium.
Shakespeare's most beloved and well-known work, "Romeo and Juliet," alternates between laugh-out-loud comedy, exuberant romance and wrenching tragedy. Featuring Shakespeare's greatest romantic pairing — a star-crossed duo whose passion careens into disaster — "Romeo and Juliet" is populated with unforgettable characters, high drama and Shakespeare's most famed passages. The feud between two dynastic families is put to the ultimate test when Romeo, of the Montague family, and Juliet, of the Capulets, fall deeply into love. Prevented from marrying by their warring families, yet unable to turn away from each other, the lovers embark on a dangerous plan to secretly wed, leading to unexpected consequences.
As part of the McCain Performance Series' education and outreach program, the actors will spend several days before the performance on campus with English and other departmental classes in seminar and workshop settings.
Founded in 1975, Actors From The London Stage is one of the world's oldest touring Shakespeare theatre companies. Housed and workshopped in the United Kingdom and based in the United States with Shakespeare at Notre Dame, this intensive residency program is one of a kind. The company presents one-week residencies at 16-18 universities per year, providing students and faculty with an opportunity to experience a cross-disciplinary, in-depth and dynamic set of workshops enhanced by performances of one of Shakespeare's great masterpieces.
Tickets are available online at mccain.k-state.edu or the ticket office in the newly expanded McCain lobby from noon to 4 p.m. Wednesday through Friday. Tickets are also available by phone at 785-532-6428 during the same hours. Kids 17 and younger get 50% off the general price of admission.
For more information, email mccain@k-state.edu.