K-State veterinary student receives Throlson American Bison Foundation scholarship
Thursday, Nov. 17, 2022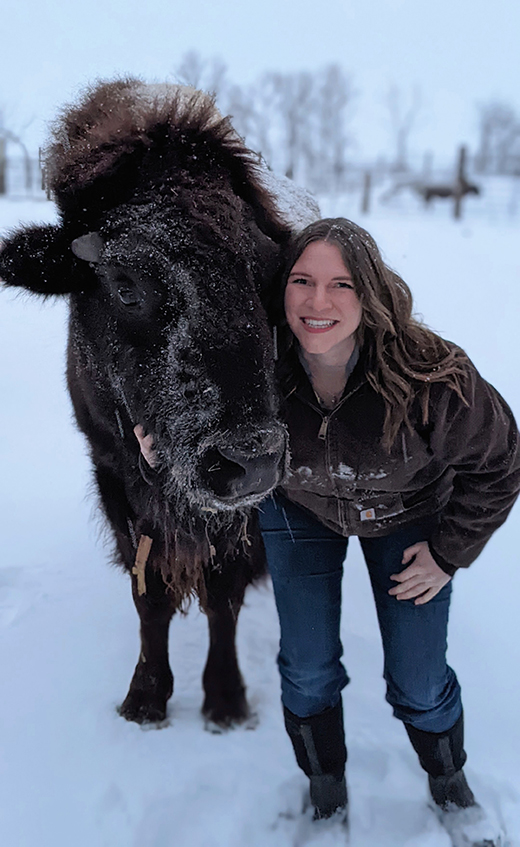 Second-year Kansas State University veterinary student Mikayla Lacher, who was raised on a bison ranch in North Dakota, is the recipient of a Throlson American Bison Foundation scholarship. | Download this photo.
MANHATTAN — Mikayla Lacher, second-year veterinary student at the Kansas State University College of Veterinary Medicine, is one of three students selected nationally for the Throlson American Bison Foundation scholarship.

The foundation is named in honor of Ken Throlson, a veterinarian and expert in bison and former owner of a noted bison ranch in North Dakota.

The Throlson Foundation scholarship review committee considered several applications and narrowed it down to the three winners, all stand-out students. This year's scholarships include funding from the Rich Zahringer Memorial Scholarship Fund, which supports students who focus on agricultural business and accounting in recognition of the fund's namesake, who was a longtime bison industry accountant and is among the pioneers of the modern bison business. The scholarship is made possible by Rocky Mountain Natural Meats.

Lacher, Christine, North Dakota, grew up on a bison ranch in North Dakota.

"Dr. Ken Throlson is the founder of this scholarship and my veterinary mentor growing up," Lacher said. "He has now retired, but I plan to follow in his footsteps."

The primary mission of the foundation is to annually award scholarships in bison-related studies. Winners all have possessed interest in the advancement of the bison industry.