McCain Performance Series begins a festive holiday season with Cirque Dreams 'Holidaze'
Thursday, Nov. 10, 2022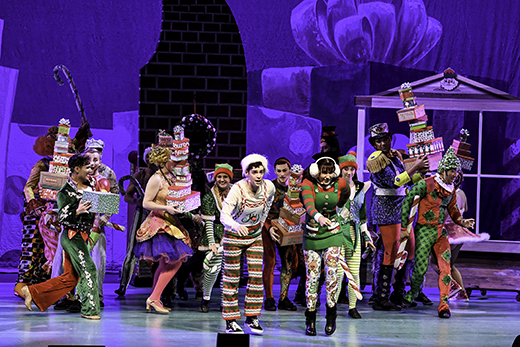 Cirque Dreams "Holidaze" comes to McCain Auditorium at 7:30 p.m. Monday, Nov. 28, as part of the McCain Performance Series. | Download this photo.
MANHATTAN — The 2022-2023 McCain Performance Series celebrates its first holiday-themed show of the season at 7:30 p.m. Monday, Nov. 28, in Kansas State University's McCain Auditorium with Cirque Dreams "Holidaze."

Cirque Dreams "Holidaze" dazzles with a brilliant and whimsical family holiday spectacular. This annual tradition wraps a Broadway-style production around an infusion of contemporary circus arts. As lights dim and the music swells, audiences will have visions of sugarplums dancing in their heads as a fantastical cast of holiday storybook characters come to life.

Featuring an ensemble of aerial circus acts, sleight-of-hand jugglers, fun-loving skippers, breath-catching acrobatics, and much more, Cirque Dreams "Holidaze" is imaginative and fun for the whole family. The world-renowned cast of performers is accompanied by an original music score, including new twists on seasonal favorites such as "Deck the Halls," "Winter Wonderland," and "Rockin' Around the Christmas Tree." Singers, dancers, penguins, toy soldiers and reindeer invoke the dreams behind a child's eye on the most magical of nights. This family-friendly production is sure to put a twinkle in your eye.

Tickets are available online at mccain.k-state.edu or at the Ticket Office in the newly expanded McCain lobby from noon to 4 p.m. Wednesdays through Fridays. Tickets are also available by phone, 785-532-6428, during the same hours. Children 17 and under get 50% off the general price of admission.

For more information, email mccain@k-state.edu.