Technology Development Institute assists in development of new dental device
Friday, Sept. 30, 2022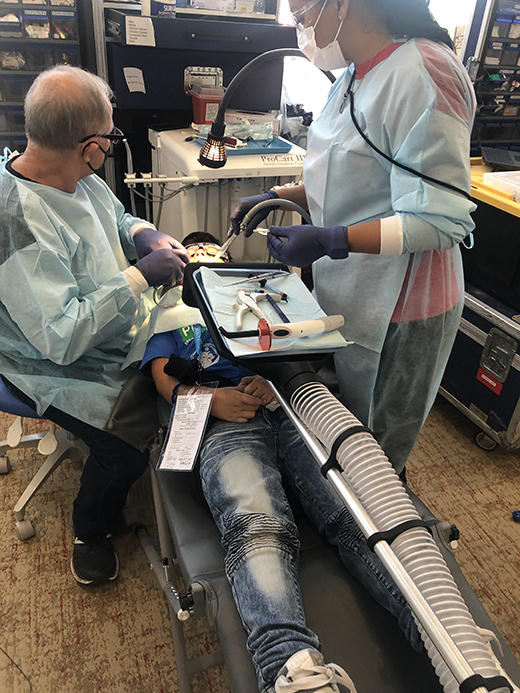 Dr. Steven Dunning, a Belton, Missouri, dentist and K-State alumnus, tries out the surgical tray invented by Dr. Thomas Faerber, a Kansas City oral surgeon and K-State alumnus, with the help of K-State's Technology Development Institute. Dunning was participating in the recent TeamSmile event in Kansas City. The tray provides vacuum evacuation of aerosolized particles that can be emitted through dental, medical or surgical procedures. | Download this photo.
MANHATTAN — The Technology Development Institute, or TDI, at the Kansas State University Carl R. Ice College of Engineering is providing product development assistance in designing, prototyping and testing a new dental device to protect the health of health care workers.

TDI was contacted by Dr. Thomas Faerber, a K-State alumnus and former linebacker for the Wildcats. Faerber is now an oral surgeon in the Kansas City area. During the pandemic, he came up with an idea to capture aerosolized particles generated during dental procedures to prevent the spread of viruses and other potentially harmful pathogens. He filed a patent on a surgical tray can provide vacuum evacuation of fine particles generated as a result of dental, medical or surgical procedures.

TDI assisted Faerber by making an application for a Kansas Department of Commerce Proof of Concept Grant to obtain funding for optimizing the design of the surgical tray and conducting testing to ensure the system would capture the largest volume of aerosolized particles possible. TDI created a simulated patient and utilized a smoke generation machine to provide visual confirmation of the device's evacuation capabilities. Various iterations of the tray were tested until the optimal design was achieved.

After TDI constructed surgical trays from the final design, they were used at the Kansas City TeamSmile event on Sept. 27. TeamSmile provides children in need with life-changing dental experiences. The program works with professional sports organizations to set up large dental clinics in stadiums such as Arrowhead, home of the Kansas City Chiefs.

Faerber has been involved in the program for a number of years and was excited to demonstrate the new product at the event.

"TDI's engineering, prototyping and business planning services have really helped me bring my idea to life and I look forward to bringing this technology to market to benefit the entire dental and medical industry with their continued support," Faerber said.

The K-State Technology Development Institute, a U.S. Department of Commerce Economic Development Administration University Center, provides a broad range of engineering and business development services to both private industry and university researchers to advance the commercial readiness of new products or technologies. Additional information is available at k-state.edu/tdi.