McCain Performance Series presents Grammy-winning Count Basie Orchestra with special guests New York Voices
Friday, Sept. 30, 2022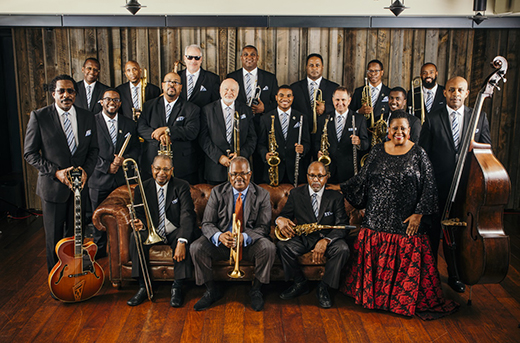 The Count Basie Orchestra to perform at McCain Auditorium on Oct. 15 as part of the McCain Performance Series. Tickets are on sale now. | Download this photo.
MANHATTAN — The 2022-2023 McCain Performance Series hosts the acclaimed jazz ensemble Count Basie Orchestra in an evening of big band jazz that will also feature jazz vocal ensemble New York Voices at 7:30 p.m. Oct. 15 in McCain Auditorium.

In the history of jazz, only one bandleader has the distinction of having his orchestra still performing in sold-out concerts all over the world, with members personally chosen by him, 30 years after his passing. Directed by Scotty Barhhart, the Count Basie Orchestra has topped every respected jazz poll in the world at least once, won 18 Grammy Awards, performed for royalty, appeared in TV shows and movies, and played at every major jazz festival and prominent concert hall in the world. The latest honors are the 2018 Downbeat Readers Poll Award as the No. 1 Jazz Orchestra in the world and a Grammy nomination for their 2018 acclaimed recording "All About That Basie." This great 18-member orchestra continues the excellent history started by Basie of stomping and shouting the blues, as well as refining those musical particulars that allow for the deepest and most moving of swing.

The orchestra will feature New York Voices, hailed by the Boston Herald as "…the most exciting vocal ensemble in current jazz...to collect such quality voices in one group is rare enough, yet the real trick of New York Voices is how well they mesh…"

Tickets are available online at mccain.k-state.edu or at the Ticket Office in the newly expanded McCain lobby from noon to 4 p.m. Wednesdays through Fridays. Tickets are also available by phone, 785-532-6428, during the same hours. Kids 17 and under get 50% off the general price of admission.

For more information, email mccain@k-state.edu.