Summer veterinary research program branches out, honors Brian Herrin for mentoring
Tuesday, Aug. 2, 2022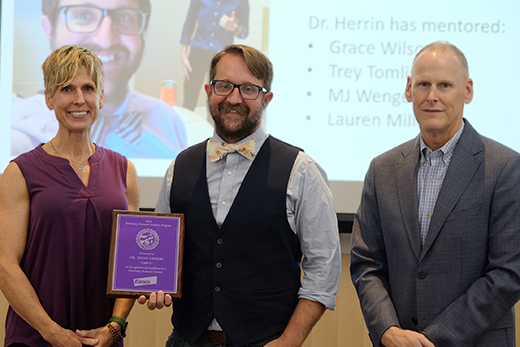 Elanco representatives Jennifer Schofield, left and Dan Keil, right, present the Elanco 2022 Veterinary Scholar Research Program Mentor Award to Brian Herrin, K-State assistant professor of clinical veterinary parasitology. Schofield earned her Doctor of Veterinary Medicine from K-State in 2002. Keil completed a doctorate in veterinary pathobiology and microbiology from K-State in 1999. | Download this photo.
MANHATTAN — The Veterinary Research Scholars Program for Kansas State University veterinary students recently celebrated a successful session. Projects involved collaborations with research mentors inside and outside the College of Veterinary Medicine and included a few visiting scholars from other veterinary colleges and another country.

"There are many excellent faculty researchers from the College of Veterinary Medicine, across the Kansas State University campus and from the U.S. Department of Agriculture's Animal Research Service who mentor scholars in this program," said Kate KuKanich, professor of small animal internal medicine and director of the Veterinary Research Scholars Program. "Scholars work with their mentors over the summer to learn laboratory techniques and data collection and analysis procedures. They also participate in weekly journal clubs and interactive workshops to learn about research ethics, how to present research findings and veterinary career opportunities involving research."

KuKanich said the goal of the Veterinary Research Scholars Program is to introduce veterinary students to biomedical research through an engaging summer experience and to encourage talented veterinary professional students to enter veterinary careers involving research.

"At the end of the summer, scholars presented their research posters for K-State faculty and research colleagues, students, alumni, and corporate friends and donors," KuKanich said. "We were delighted to present a mentoring award for the second year in a row, thanks to our award sponsor, Elanco. This year's recipient was Dr. Brian Herrin, who was nominated by Grace Wilson, his 2022 veterinary research scholar, and Trey Tomlinson, his 2021 veterinary research scholar. Both will be third-year veterinary students this fall. Trey has continued to work with Dr. Herrin on parasitology research this summer."

The mentoring award includes a $1,000 stipend for the recipient.

"We had a number of excellent mentors nominated, confirming the strength of our mentor pool and the dedication of our mentors to their scholars and the Veterinary Research Scholars Program, and we are so appreciative of Elanco for its support," KuKanich said.

Herrin is an assistant professor of clinical veterinary parasitology. He guided Wilson through a project on the prevalence of Dipylidium caninum, a type of tapeworm in fleas, collected from cats, dogs and residential homes in Tampa, Florida.

"It's definitely an honor to be nominated for the mentoring award," Herrin said. "The students selected for the Veterinary Research Scholar Program are incredible, so mentoring them is a lot of fun. As a mentor, you get to step back and experience the highs of their first positive result and the lows of a failed experiment with them. There's so much learning in a short time. It is a really great burst of research energy over the summer, and I love it."

Other student projects this year included studies on the potential to use insects as a food source; evaluations of cancer treatments in dogs; milk residue depletion of cannabinoids in cattle after exposure to industrial hemp; ways to reduce capture stress before administering anesthesia in captive zoo animals; feedlot medicine issues; and more.

In addition to K-State students, the Veterinary Research Scholars Program and USDA hosted one student each from the veterinary colleges at the University of the Republic in Uruguay, Mississippi State University and Purdue University. In addition to mentors from the College of Veterinary Medicine, other mentors included scientists from the USDA and K-State colleges of Arts and Sciences and Agriculture.

The Veterinary Research Scholar Program students will attend the National Veterinary Scholar Symposium, Aug. 4-6, in St. Paul, Minnesota, to share research posters with veterinary scholars from across the globe.