Homecoming spotlights camaraderie of U.S.-China Joint Doctor of Veterinary Medicine Program
Wednesday, July 13, 2022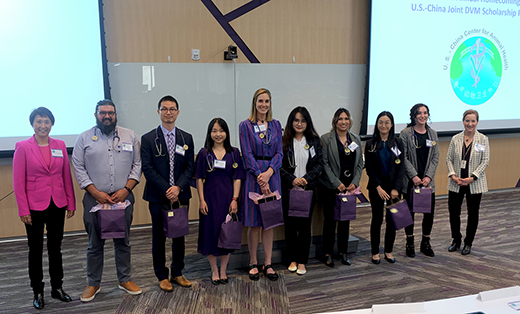 The recent graduates of the U.S.-China Joint Doctor of Veterinary Medicine Program received gifts after giving presentations on their educational experiences. From left: Lei Wang, program manager for the U.S.-China Center for Animal Health; Ron Orchard; Weihan Wang; Sichao Mao; Catharine Found; Yilei Zheng, Lauren Fukushima; Xinyi Xu; Amber Irick; and Bonnie Rush, Hodes family dean of the College of Veterinary Medicine. | Download this photo.
MANHATTAN — The old expression "two heads are better than one" took on new meaning this year at the annual celebration of the U.S.-China Joint Doctor of Veterinary Medicine Program at Kansas State University in May.

This year's graduates were asked to bring a friend so each could share anecdotes about the value of friendship while tackling the challenges of completing a Doctor of Veterinary Medicine, especially for the Chinese students for whom English is a second language.

"When talking about the impact of classmates on me, I have always been amazed by how intelligent, mentally mature and hard-working they are," said Weihan Wang, who graduated from K-State with a Doctor of Veterinary Medicine in May. "They have always been supporting me and helping me do my fourth-year class rotations. Helping and supporting each other makes our lives much easier."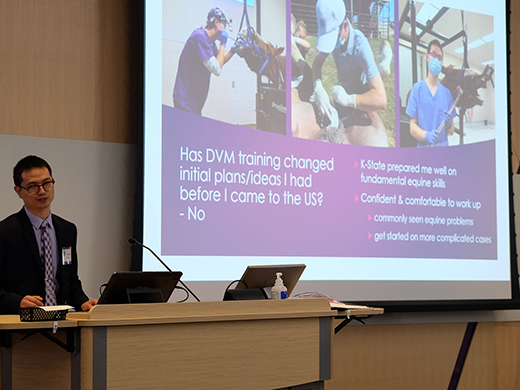 Weihan Wang, a new Kansas State University Doctor of Veterinary Medicine graduate, speaks at the annual homecoming celebration of the U.S.-China Joint Doctor of Veterinary Medicine Program in May at K-State. Wang plans to work in equine medicine when he returns to his native China. |
Download this photo.

Wang's classmate and fellow graduate Ron Orchard said, "K-State is a pretty amazing place that has opened up the world to me. Even though I've had the fortune to travel a bit, even before I came here, I've not met and made as many meaningful connections around the world till I came to K-State. I hope this leads to further projects that Weihan and I can perform together in China, and I think this program provides us a blueprint on how we can accomplish that."

For each graduating class year, there are four to six Chinese students who enroll at the K-State campus to complete one year of pre-veterinary studies so they can be acclimated to studying in the United States. Afterward, the students may apply to study for their Doctor of Veterinary Medicine degrees at either K-State or one of four other U.S. veterinary colleges: University of Minnesota, Iowa State University, University of Georgia and University of Missouri.

"I love working in a team and developing bonds with my co-workers," said Lauren Fukshima. She and Yilei Zheng completed their degrees at the University of Minnesota this year. "Dr. Zhang is one of the most hard-working, intelligent and funny people I've ever been lucky to know, and I'm really lucky to have her as a friend. I learned a lot about the differences and similarities in life and school in China compared to America. Her future students are incredibly lucky to have her as a teacher."

The other graduates and their friends are Sichao Mao and Catharine Found from Iowa State University and Xinyi Xu and Amber Irick from the University of Georgia. The Chinese graduates of the U.S.-China Joint Doctor of Veterinary Medicine Program will return to China and be associate professors at top Chinese universities.

"The goal of the U.S.-China Joint Doctor of Veterinary Medicine Program is to train the trainers of Chinese veterinary medicine," said Jishu Shi, professor and director of the U.S.-China Center for Animal Health in the K-State College of Veterinary Medicine.

Shi told the graduates, "When you came here five years ago, you were goodwill ambassadors of Chinese people, so in a few weeks, you will go back to China, and I hope you will be the goodwill ambassadors of the American people. You will develop more and newer bridges between the two countries, especially for global medicine."

The U.S.-China Center for Animal Health provides scholarships to cover the first year of pre-veterinary tuition and five years of student activities through funding from Zoetis, Yebio Bioengineering and Banfield Pet Hospital. The China Scholarship Council supports four years of Doctor of Veterinary Medicine tuition and living stipends for five years.

In addition to the recent graduates, the homecoming event included the current Doctor of Veterinary Medicine students in the program, who each gave a status report on their activities over the last school year. Five students just finished their pre-veterinary studies at K-State and 12 students are currently attending the four universities in the program.

The guest list included administrators from each of the schools, plus Michael Topper, director of international affairs and chair of the American Veterinary Medical Association's committee on international veterinary affairs. He previously served as the association's president from 2017 to 2018. Topper gave a leadership seminar on the second day of the homecoming event.