Morse scholarship winner to tackle accessibility, transportation issues
Tuesday, June 28, 2022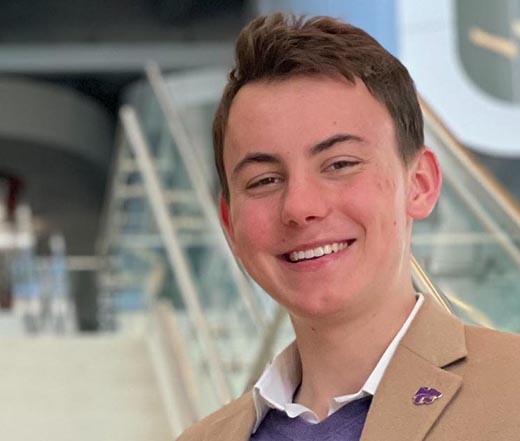 Nick Saia, a junior studying civil engineering has a strong interest in city planning and how government can help shape a community. | Download this photo.
MANHATTAN — K-State Libraries 2022 Morse Family and Community Public Policy Scholarship winner, Nick Saia, plans to use the award this summer to work with the city of Manhattan to improve accessibility and transportation options.

A junior in civil engineering from Olathe, Saia has a strong interest in city planning and how government can help shape a community. One of Saia's goals is to work with city officials to rewrite Manhattan's development code to allow people with disabilities to more easily install accessibility features at home.

"Right now, the city has a fairly complicated approval process for people who want to say, add a ramp to their home so they don't have to navigate stairs," Saia said. "I want to help rewrite the code so that housing developers don't have to go through as many hoops to install necessary accessibility features."

Saia also wants to advance the city's current strategic plan to increase public access and use of bicycle and pedestrian paths. His hope is to apply for a grant program that would provide funds to address some of the top concerns that citizens have about using bicycles in town.

"Using bikes and footpaths more frequently can have an amazing health and environmental impact on a community," Saia said. "If people feel our current routes are unsafe or in poor condition, then they won't use them. I want to address areas for improvement."

The Morse scholarship, awarded annually, provides funds to support a project or internship that gives a student the experience of working in community, state or federal governments or providing service in the nonprofit sector. The award honors Richard L.D. and Marjorie J. Morse's lifetime commitment and activism to improve the quality of family and community life. To learn more, please visit the Libraries' website at lib.k-state.edu/about/our-organization/morse-scholarship.