Natarajan leads K-State portion of $24 million NSF investment in resilient, socially equitable infrastructure

Friday, May 20, 2022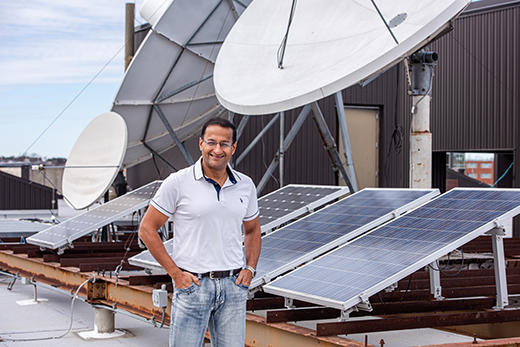 Bala Natarajan is a Steve Hsu Keystone research scholar and Clair N. Palmer and Sara M. Palmer electrical engineering professor within the Mike Wiegers Department of Electrical and Computer Engineering at Kansas State University. | Download this photo.
MANHATTAN — Ensuring that infrastructure is equipped to support all communities after a disaster, including historically underserved groups that often receive less aid in the aftermath, is the aim of a new five-year, $24 million statewide initiative funded by the National Science Foundation.

Kansas State University joins a collaborative group of 16 other universities and colleges in Kansas, along with industry leaders and disaster experts, for the project, which is designed to better equip communities with limited resources before and after a natural disaster strikes. The project is titled "Adaptive and Resilient Infrastructures Driven by Social Equity."

Bala Natarajan, Steve Hsu Keystone research scholar and Clair N. Palmer and Sara M. Palmer electrical engineering professor in the Mike Wiegers Department of Electrical and Computer Engineering, will lead K-State's portion of the project.

"I find that the most challenging societal problems typically require solutions that cut across disciplinary boundaries," Natarajan said. "That is why I am excited to work on this unique project, as it will bring together a diverse team of researchers from across Kansas to help create a paradigm shift in resilience science and engineering."

Funded through the NSF's Established Program to Stimulate Competitive Research RII Track-1 program, the project's overall goal is to determine how infrastructure resilience intersects with social equity and how human capacity, physical infrastructure and policy levers can be designed to achieve socially equitable outcomes that collectively improve decisions and community resilience. The NSF will provide $20 million, with the state of Kansas adding $4 million in matching funds.

Belinda Sturm at the University of Kansas will serve as principal investigator on the project, leading the group of 23 researchers from Kansas State University, the University of Kansas and Wichita State University. Joining Natarajan from the Carl R. Ice College of Engineering at K-State as co-principal investigators are George Amariucai and Lior Shamir, both from computer science; Husain Aziz, civil engineering; Anil Pahwa, electrical and computer engineering; and Vaishali Sharda, biological and agricultural engineering. Jason Bergtold, agricultural economics, joins from the College of Agriculture.

"The team will leverage fundamental advances and tools from social sciences, engineering and computer sciences to develop a new social equity-driven paradigm that will transform the way researchers and communities approach smart and resilient communities," Natarajan said. "Working closely with multiple stakeholders, we are looking forward to translating our theoretical modeling and analysis work into a meaningful decision support framework that Kansas communities can use in their policymaking, planning and operation of critical infrastructures."

Targeting underserved populations, the project will introduce more than 2,400 Kansas families to resilience, resulting in an understanding of individual capacity and preparedness for disasters while providing pipelines to higher education.