All-University Open House welcomes all back to Manhattan campus April 9 for day of discovery, fun
Wednesday, April 6, 2022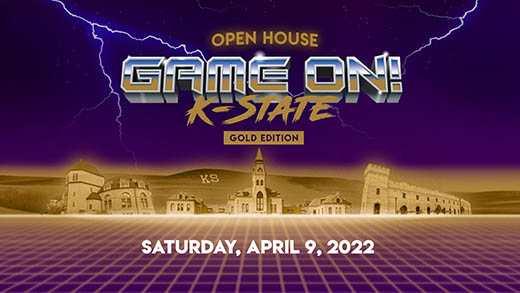 K-State's All-University Open House, Saturday, April 9, will be 9 a.m. to 3 p.m. on the Manhattan campus. All are welcome to explore campus and find out what K-State has to offer.


MANHATTAN — Game on! Kansas State University's All-University Open House returns as an in-person event on the Manhattan campus this year, with activities scheduled from 9 a.m. to 3 p.m. Saturday, April 9.

The All-University Open House is a great way to learn about what K-State has to offer, whether you are a prospective student, parent of a prospective student or even a current student considering a change of major. It is also a chance for the public to discover what is happening at K-State.

The Carl R. Ice College of Engineering invites visitors to Engineering Hall for a 3D-printed bridge competition and to get a sneak peek of this year's student-built formula car. Don't miss the College of Agriculture's bug petting zoo and take the shuttle to the grain science department's north complex to tour a state-of-the-art flour mill.

Use virtual reality to see interior design projects from students in the College of Health and Human Sciences and tour the new nursing program facilities in Justin Hall. Graduate students in communications sciences and disorders will provide free hearing screenings in the Campus Creek Complex.

The College of Arts and Sciences will feature many displays throughout campus, including tours of a microbiology lab and the English department's custom poetry from the Poet-in-a-Box. While visiting the College of Business Building, enjoy activities hosted by student groups and get a photo with Willie the Wildcat.

At the College of Education, visit sensory stations, make fidget toys and pick up a sweet treat on the lawn outside Bluemont Hall. The College of Architecture, Planning & Design's many events include BOXhattan, offering visitors a chance to try their hand at city planning.

Take a stroll to the College of Veterinary Medicine complex to see a variety of exhibits and activities. Race remote control cars through a model gastrointestinal tract and learn about anatomy on the painted horse and palpation pony.

The Department of Housing and Dining Services will provide tours of the residence halls and the K-State Union Program Council will host the UPC Adventure Zone in Bosco Student Plaza. Shuttle service throughout campus will be provided by the Flint Hills Area Transportation Agency.

See the complete agenda to start planning your visit to the All-University Open House. K-State students, faculty and staff will be on hand to show what K-State offers to ensure student success and make positive changes in the world.