Second-year veterinary student receives USDA-Boehringer Ingelheim summer research opportunity
Thursday, April 14, 2022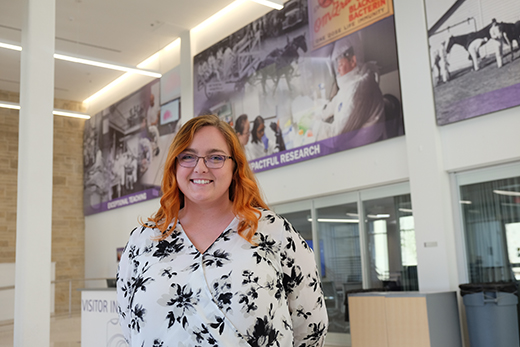 Michaela Long, a second-year veterinary student at Kansas State University will spend her summer researching infectious diseases through a select program offered by Boehringer Ingelheim and the U.S. Department of Agriculture's Agricultural Research Service. | Download this photo.
MANHATTAN — Kansas State University's Michaela Long, Turlock, California, currently in her second year of veterinary studies, is among 12 students from 10 universities across the nation selected to spend the summer researching diseases that could affect livestock and public health.

The research opportunity is being made possible by Boehringer Ingelheim and the U.S. Department of Agriculture's Agricultural Research Service, or ARS.

Long will work with ARS scientists on livestock infectious disease research at one of nine USDA sites. Boehringer Ingelheim and the USDA will cover all costs for the students, including a monthly stipend and expenses associated with traveling to and from their schools to the USDA centers.

"As an aspiring poultry pathologist, I am excited to take part in the research project in the program," Long said. "I look forward to the positive implications this study has for poultry and the opportunity to learn more about how to implement research studies."

Each of the ARS scholars is invited to travel to the Veterinary Scholars Symposium in Minneapolis from Aug. 4-7, where they will present their research and network with other scholars and scientists. The K-State College of Veterinary Medicine also sends a group of students to this symposium each year through its summer Veterinary Research Scholars Program.

"ARS employs world-renowned veterinarian scientists with a broad range of expertise in infectious diseases of animal and public health concern," said Roxann Motroni, D.V.M., Ph.D., and USDA Agricultural Research Service national program leader for animal health. "This allows us to be responsive to emerging One Health disease threats by quickly implementing research needed to inform emergency response. Through this partnership with Boehringer Ingelheim's Veterinary Scholars Program, veterinary students across the country will have the opportunity to train with these leading veterinarian scientists."