Ten graduate students selected as winners of annual poster forum
Tuesday, Nov. 9, 2021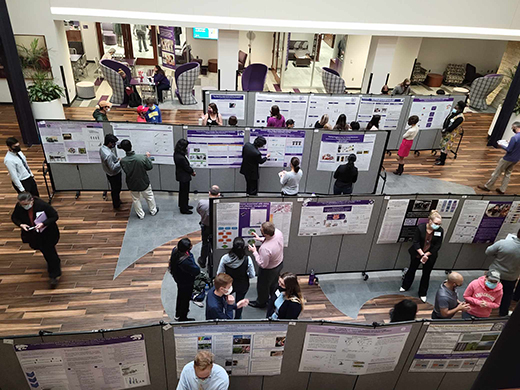 Graduate students share their research at Kansas State University's annual Research and the State poster forum. Ten winners were selected to present their work at the Capitol Graduate Research Summit in spring 2022. | Download this photo.
MANHATTAN — Research on agricultural sustainability, pest control, ecosystems, renewable energy, and public health and safety are the focus of some of the winning research presentations by Kansas State University graduate students in the Graduate Student Council's annual Research and the State poster forum, which took place Oct. 27.

Research and the State involved 29 participants from five academic colleges and 16 graduate programs. Ten graduate students were chosen to represent the university and present their work in the Capitol Graduate Research Summit to be held in spring 2022. Each winner receives a $250 scholarship.

"The Research and the State event is a great opportunity for graduate students to showcase the outstanding and diverse research being conducted at K-State that directly benefits the state of Kansas," said Claudia Petrescu, vice provost for graduate education and dean of the Graduate School. "The 10 students selected to present at the Capitol Graduate Research Summit will be illustrating the high-quality research that our graduate students are producing when they present their search to the Kansas Board of Regents and the public. This event is one of the many opportunities on which the Graduate School and the Graduate Student Council collaborate to enhance our graduate students' ability to communicate their research to the public."

The Capitol Graduate Research Summit is an annual statewide summit that features current research of graduate students at Kansas State University, the University of Kansas, the University of Kansas Medical Center, Wichita State University, Emporia State University, Fort Hays State University and Pittsburg State University. Academic and industry judges evaluate the presentations and select award recipients from each university.

The following K-State graduate students were selected as winners at the 2021 Research and the State and will represent K-State in the 2022 Capitol Graduate Research Summit:

• Brandi Feehan, master's student in veterinary biomedical science and doctoral student in genetics, Louisburg, for "Age-associated microbial stability and volatility shape the gut microbiome in a healthy pig model." Feehan's faculty advisor is Sonny Lee, assistant professor of biology.

• Anne Lovett, master's student in veterinary biomedical science, Manhattan, for "Acute anaplasmosis reduces breeding soundness in experimentally infected beef bulls." Lovett's faculty advisor is Kathryn Reif, assistant professor of diagnostic medicine and pathobiology.

• Emily Randig, master's student in civil engineering, Seal Beach, California, for "Application of fluorescence spectroscopic characterization of an algal bloom event in the Milford Gathering Pond." Randig's faculty advisor is Prathap Parameswaran, associate professor of civil engineering.

• Jack Sytsma, master's student in biology, Leighton, Iowa, for "Dominant prairie grass cross-transplanted across the Midwest rainfall gradient: Response to drought." Sytsma's faculty advisor is Loretta Johnson, professor of biology.

• Shelby Astle, doctoral student in human ecology specializing in applied family science, Las Vegas, Nevada, for "To talk or not to talk: An analysis of parents' intentions to talk with children about different sexual topics using the theory of planned behavior." Astle's faculty advisors are Michelle Toews, professor of applied human sciences, and Kristin Anders, assistant professor of applied human sciences.

• Edward Bird, doctoral student in genetics, Shawnee, Oklahoma, for "Utilizing comparative transcriptions to understand the effects of vesicular stomatitis virus infection on neuro-sensory function in culicoides midges." Bird's faculty advisor is Kristopher Silver, research associate professor of entomology.

• Cris Kauer Brazil, doctoral student in industrial engineering, Brazil, for "Can virtual reality be used to test older adults on daily activities performance?" Kauer Brazil's faculty advisor is Malgorzata Rys, associate professor of industrial and manufacturing systems engineering.

• Carlos Pires, doctoral student in agronomy, Brazil,for "Kansas soil health partnership." Pires' faculty advisor is Charles Rice, university distinguished professor of agronomy.

• Mohanish Andurkar, doctoral student in mechanical engineering, India, for "Investigating the effects of nuclear radiation on additively manufactured parts." Andurkar's faculty advisor is Scott Thompson, associate professor of mechanical and nuclear engineering.

• Archana Sekar, doctoral student in chemistry, India, for "Development of durable anode electrocatalysts for direct methanol fuel cells." Sekar's faculty advisor is Jun Li, professor of chemistry.