McCain celebrates completion of newly renovated lobby with free show Nov. 7 by BeauSoleil avec Michael Doucet
Wednesday, Oct. 13, 2021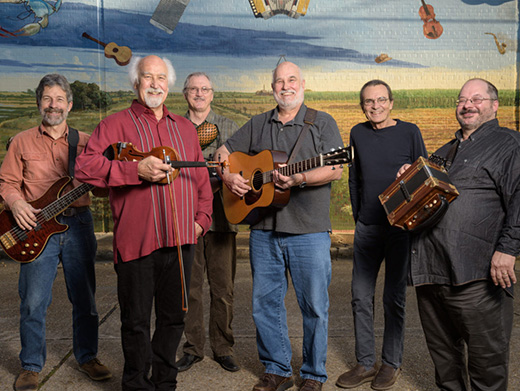 McCain Auditorium at Kansas State University will show off its renovated, expanded lobby with a performance by BeauSoleil avec Michael Doucet at 7 p.m. Sunday, Nov. 7. An open house will follow. Tickets, which are free, are required to attend. | Download this photo.


MANHATTAN — McCain Auditorium invites the community to join the fun and celebrate the completion of its newly renovated and expanded lobby area with a free show followed by an open house of the new spaces. Performing will be BeauSoleil avec Michael Doucet at 7 p.m. Sunday, Nov. 7.

Although all seats are free, everyone will need a ticket — including children who will sit on laps. Tickets can be picked up starting at noon Wednesday, Oct. 13, by coming to the McCain Auditorium Box Office, which is open Wednesdays through Fridays from noon to 4 p.m. Tickets also can be arranged by calling the box office at 785-532-6428 during its operating hours. Tickets must be picked up at least 15 minutes before the show. Tickets are first come, first served, until they last. Tickets are not available through the internet.

For the past 45 years, the group BeauSoleil avec Michael Doucet has been making some of the most potent and popular Cajun music on the planet. The group is back on the road with the farewell tour "One Last Time — Au Revoir!"Born out of the rich Acadian ancestry of its members and created and driven by bandleader Doucet, BeauSoleil is known for bringing even the most-staid audience to its feet. The group's distinctive sound derives from the distilled spirits of New Orleans jazz, blues rock, folk, swamp pop, Zydeco, country and bluegrass, captivating listeners from the Jazz and Heritage Festival in New Orleans to Carnegie Hall.

Since becoming the first Cajun band to win a Grammy Award with "L'amour Ou La Folie"and then a second Grammy in 2010 for "Live from the New Orleans Jazz and Heritage Festival," BeauSoleil has garnered many accolades, including 12 Grammy nominations. The group's music is so integral to the Cajun culture that it has been featured on the New Orleans-based hit HBO program "Treme."

This show is appropriate for all ages and the entire family is encouraged to attend.

McCain Auditorium will follow K-State's guidelines for COVID-19 health and safety procedures that are in place on the evening of the performance. The university is currently mandating a temporary face mask requirement. Everyone must wear face masks over their mouths and noses in all indoor spaces on university property, including McCain Auditorium. If guidelines change, McCain will adjust its practices and keep ticket holders informed.For more information, visit the university's COVID-19 website, k-state.edu/covid-19.

For more information, email mccain@k-state.edu.