'Kansas: Point of Know Return' anniversary tour added to McCain Performance Series
Monday, Oct. 4, 2021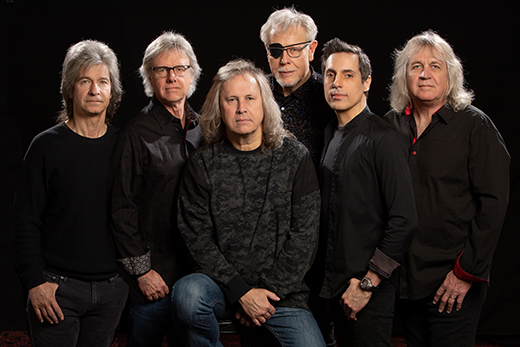 The classic rock band Kansas is coming to the McCain Performance Series at Kansas State University's McCain Auditorium on May 18, 2022. Tickets go on sale online and at McCain Auditorium on Friday, Oct. 8. | Download this photo.


MANHATTAN — The McCain Performance Series at Kansas State University has added the classic rock band Kansas to its schedule of shows. The band is set to return to McCain Auditorium to perform its "Point of Know Return" anniversary show at 7:30 p.m. May 18, 2022.
With a legendary career spanning nearly five decades, Kansas has firmly established itself as one of America's iconic classic rock bands. This garage band from Topeka released its debut album in 1974 after being discovered by Wally Gold — who worked for renowned rock music producer and manager Don Kirshner — and has gone on to sell more than 30 million albums worldwide. The band is currently comprised of original drummer Phil Ehart, bassist/vocalist Billy Greer, vocalist/keyboardist Ronnie Platt, violinist/guitarist David Ragsdale, keyboardist/vocalist Tom Brislin and original guitarist Richard Williams. With no signs of slowing down, Kansas continues to perform in front of large and enthusiastic audiences around the world.

Tickets will be available to the general public online at mccain.k-state.edu 10 a.m. Friday, Oct. 8, or at the Ticket Services Office in the newly expanded McCain lobby from noon to 4 p.m., also on Oct. 8. Tickets will be available by phone, 785-532-6428, also from noon to 4 p.m. Kids 18 and under get 50% off the general price of admission. Regular Ticket Office hours are noon to 4 p.m. Wednesdays through Fridays.

All donors and sponsors to McCain Auditorium will have early access to purchase tickets to the show before they go on sale to the general public. Donors will be required to type in a special code or mention it when purchasing over the phone or in person. This early access period will begin online at 10 a.m. Wednesday, Oct. 6 and from noon to 4 p.m. for in-person or phone sales. Donors and sponsors will be emailed the needed code for early access. Ticket-buyers who wish to become donors in order to receive early access to purchase Kansas tickets should call 785-532-6425 for more information.

McCain Auditorium will follow K-State's policies for COVID-19 health and safety procedures on the evening of the performance. Currently, the university has implemented a temporary face mask requirement. The requirement will be rescinded when Riley County is no longer designated a high or substantial transmission area per the Centers for Disease Control and Prevention. Everyone must wear a face mask over their mouth and nose while inside McCain Auditorium. If a patron is seen not complying with this policy, they will be asked to wear a mask, ensuring it covers the mouth and nose. If an individual does not comply with the request to properly wear a mask, the individual will be escorted from the premises and tickets will not be refunded. For more information on K-State's policies, please visit k-state.edu/covid-19.

For the 2021-2022 season, and due to the uncertainties surrounding COVID-19, if a patron wishes to not attend a show for any reason, the patron can ask for a refund or a credit to their account up to 30 minutes before showtime. As stated above, however, individuals in physical attendance at McCain Auditorium not complying with the mask requirement will not be issued refunds.
For more information, email mccain@k-state.edu.