K-State Recreational Services celebrates 100 years
Thursday, Aug. 19, 2021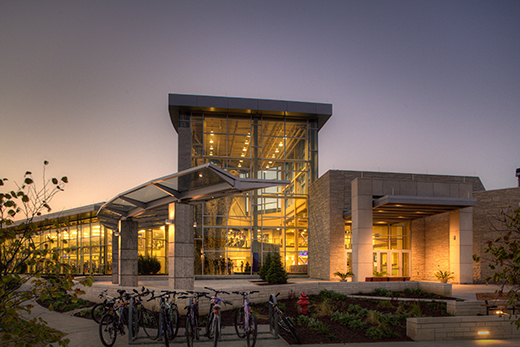 The Chester E. Peters Recreation Complex on Kansas State University's Manhattan campus is home to the university's Recreational Services, which is celebrating 100 years of recreational services to the university community. | Download this photo.
MANHATTAN — Kansas State University Recreational Services is marking its 100th year of providing recreational opportunities to the K-State community with a celebration open to all.

Join the fun from 4:30-6:30 p.m. Tuesday, Aug. 24, at the Chester E. Peters Recreation Complex on the Manhattan campus. Enjoy cake and ice cream, try out the inflatable obstacle course, meet Willie the Wildcat, see the K-State Marching Band and win prizes and giveaways. Other activities include a bouldering wall competition and sand volleyball tournament starting at 5:30 p.m. Visitors can sample group fitness classes from 5:30-8 p.m.

The celebration will be a part of the Fall K-State Week of Welcome.

Over the past 100 years, K-State Recreational Services has kept the K-State community playing, competing and moving. The physical education department began intramurals with 33 men's basketball teams in November 1920. In a few years, other sports were added, such as track, baseball, wrestling, soccer, swimming and horseshoes. In 1924, women's intramurals were introduced with volleyball.

More intramural sports were added in 1951 when Ahearn Field House opened and activities moved to its new gym. In 1980, the Recreational Services office moved from Ahearn to its permanent home.

With the effort of Chester E. Peters, vice president for student affairs, K-State became one of the first universities to open a $3.3 million stand-alone student recreation facility. Just 15 years later, students voted to expand. New strength and training spaces were added and by the early 2000s, personal training, sports clubs and the challenge course were available. The students voted to expand the facility once again in 2012 to include cardio and weight rooms, an extended running track, multi-activity spaces, lounges, mind and body studios, a climbing wall and a juice bar. The Outdoor Rental Center received a new facility and renovated outdoor courts.

Today, K-State Recreational Services continues to strengthen friendships and bonds, and keeps the campus healthy and thriving through physical activity. Recreational Services is committed to creating and growing programs to promote the well-being and mental health of its students, staff and the K-State community.