Eighth annual Fighting for a Cure Day Oct. 16
Wednesday, Aug. 25, 2021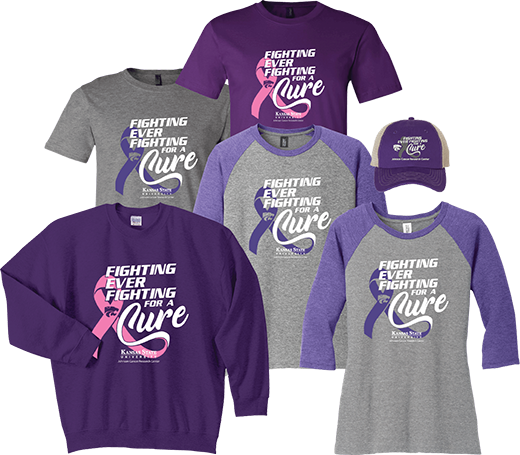 Fighting for a Cure T-shirts are available for purchase in several locations in Manhattan as well as online.The university's eighth annual Fighting for a Cure Day is Oct. 16. | Download this photo.
MANHATTAN — Celebrate Kansas State University's fight against cancer with a Fighting for a Cure shirt, and wear it to the home football game, or anywhere, Saturday, Oct. 16, for the eighth annual Fighting for a Cure Day.

Join Bill Snyder, K-State's former head football coach; Chris Klieman, current head football coach; Eric Stonestreet, Emmy Award-winning actor and alumnus; Kevin Lockett, former K-State Wildcat and Kansas City Chiefs football player; and many others in celebrating K-State's fight against cancer with a Fighting for a Cure shirt, honoring the K-State family's cancer survivors and researchers.

The Fighting for a Cure Day celebration will include a special tribute by the K-State Marching Band during halftime of the football game and a tailgate party in Cat Town at Bill Snyder Family Stadium.

Fighting for a Cure shirts raise funds and awareness for the Johnson Cancer Research Center at K-State. The center supports K-State's most promising cancer research programs and students. Since 2014, shirt sales have raised around $50,000.

This year, several shirt styles and a baseball cap are available, some with pink and some without. Short-sleeve t-shirts are available in either purple or gray for $25. Three-quarter sleeve baseball shirts are available in gray with purple sleeves for $30. The sweatshirts and hats are purple and priced at $32 and $20, respectively. The graphic on all purple shirts is pink and white, and the graphic on all gray shirts and the hat is purple and white. All items feature a Powercat and the phrase "Fighting ever fighting for a cure," which is inspired by K-State's fight song, "Wildcat Victory."

Fighting for a Cure items can be purchased in Manhattan at G. Thomas Jewelers, 419 Poyntz Ave.; 1419 Mercantile, 3039 Anderson Ave.; Yee Haw Country Outfitters, 431 Poyntz Ave.; and the Johnson Cancer Research Center, 1711 Claflin Road. They are also available for purchase online.

The shirts and hats will also be sold at the Manhattan Broadcasting booth during the Purple Power Play community pep rally from 5 to 8 p.m. Friday, Sept. 10, on the Blue Earth Plaza.

Supporters are encouraged to join the social media campaign to publicize K-State Fighting for a Cure Day by posting photos of themselves and friends wearing the shirt, along with the hashtag #HelpKStateFightCancer. Photos from 2020 and earlier campaigns are on the center's Facebook page.

The Johnson Cancer Research Center, in the College of Arts and Sciences, advances cancer research and education at K-State. Its programs are made possible by private donations. Information is available at cancer.k-state.edu and by calling 785-532-6705.