College of Veterinary Medicine presents scholarships and special awards at annual banquet
Tuesday, May 18, 2021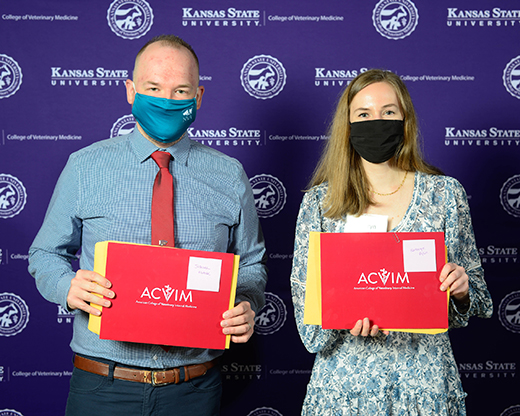 New Doctor of Veterinary Medicine graduates Joshua Klutze, left, and Kathryn Ryan receive the ACVIM Clinical Excellence Award at the College of Veterinary Medicine's recent annual senior banquet.


MANHATTAN — The Kansas State University College of Veterinary Medicine hosted its 2021 Senior Banquet on Wednesday evening at the Hilton Garden Inn. The college presented more than $170,000 in scholarship awards to graduating seniors. Special awards were also presented during the banquet for distinguished faculty, house officers and staff.

Activities for the evening commenced with the conferring of a posthumous diploma of veterinary medicine to Rodney Keith Morgan, a second-year student in veterinary studies at K-State who died in 1974 after a battle with leukemia. Several members of his family attended the banquet, including his mother, Doris Morgan, brother, Mitch Morgan, sister, Bonnie Johnson, and several nieces.

The graduating Doctor of Veterinary Medicine students of the Class of 2021 were then recognized. Seventy-three awards and scholarships were presented, acknowledging the academic, clinical, leadership and professional achievements of the class. The full list of scholarships is posted online.

"After a challenging year for students, faculty and staff, this was a wonderful evening where everyone could focus on academic accomplishments," said Bonnie Rush, dean of the college. "The new graduates demonstrated commitment, sacrifice and discipline while completing their clinical training program to ensure a safe learning environment for everyone. I'm confident they are well-prepared to succeed as the next generation of veterinarians. We are so proud of the Class of 2021."

Also distinguished were graduating students who are serving, or are veterans of, the U.S. military: 2nd Lt. Danielle Goering; ex-member of the US Air Force, Patrick Snyder; and 2018 recipient of the U.S. Army Health Professions Scholarship, Bridgette Wilson.

The Pet Tribute Faculty Award provides the senior students with an opportunity to honor a faculty member who distinguishes themself through exceptional role modeling as a compassionate caregiver and health care professional. This year's senior class voted for Sara Gardhouse, assistant professor in the clinical sciences department and diplomate of the American College of Zoological Medicine.

Two annual faculty awards were also presented during the festivities. Justin Thomason, clinical associate professor in cardiology, was selected as the recipient of the 2021 Zoetis Distinguished Veterinary Teaching Award. Since 1963, the Zoetis Distinguished Veterinary Teaching Award has been presented at each of the U.S. veterinary colleges to an outstanding teacher who advances the veterinary profession by inspiring students to their highest levels of achievement and professionalism.

The Dr. William and Deanna Pritchard Veterinary Service and Outreach Award was established in 2012 to emphasize the importance of service and outreach in the veterinary profession. Pritchard, who earned his Doctor of Veterinary Medicine at K-State in 1946, was a professor and dean emeritus of the College of Veterinary Medicine at the University of California, Davis. This year's recipient of the Pritchard Award is Jianfa Bai, professor of diagnostic medicine and pathobiology and director of molecular research and development for the Kansas State Veterinary Diagnostic Laboratory.