Blue Key Honor Society selects 2021-2022 members
Wednesday, March 10, 2021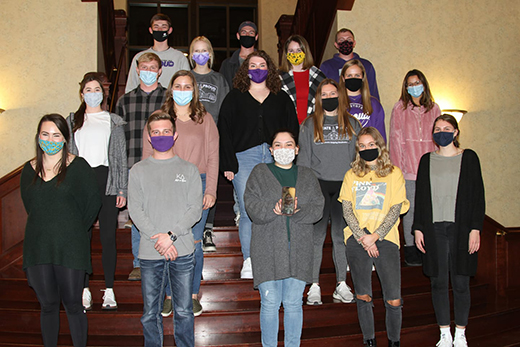 Members of Blue Key Honor Society for the 2021-2022 school year. First row, from left: Mary Clare Halpin; Michael Dowd; Natalia Rodriguez; Lily Colburn, shown via Facetime; Ella Bahr; and Maggie Horton. Second row: Peyton Kavanagh, Abby Goins and Katie Ketel. Third row: Garrett Craig, Annaleigh Hobbs, Sydney Henry and Baleigh Fry. Fourth row: Camryn Eberhardy and Cheyanne Brunner. Back row: Max Harman, Scuyler Zenger and Noah Ochsner. | Download this photo.
MANHATTAN — The 2021-2022 Blue Key Honor Society class has been selected for Kansas State University. The 18 senior students will have unique opportunities to serve the campus and the local community through mentorship, leadership and service throughout the upcoming year.

Membership eligibility in Blue Key is based on all-around leadership in student life, high scholastic achievement, service to others, citizenship and adherence to faith principles. Blue Key Honor Society recognizes upper-level students at colleges and universities throughout the nation for an exemplary and balanced record of achievement inside and outside the classroom. At K-State, membership is reserved for students with senior standing.

Throughout their year as members of Blue Key Honor Society, the seniors will have the opportunity to lead various programs, including Quest Freshman Honorary, Catalyst: A Self-Development Program, and the DiscoverU Conference for high school students. Members also will have the opportunity to facilitate YouLead Workshops to various organizations and groups, award Blue Key endowed scholarships to K-State students, and organize a Leadership Appreciation Reception for student leaders across campus. More information on Blue Key programming is available at k-state.edu/bluekey.

The following students, all who will be seniors in the 2021-2022 school year, are new members of Blue Key; majors and hometowns are included:

Garrett Craig, agricultural education and global food systems leadership, Clay Center; Baleigh Fry, athletic training, Great Bend.

From Greater Kansas City: Mary Clare Halpin, agricultural economics, Leawood; Katie Ketel, chemical engineering, and Camryn Eberhardy, sociology and political science, both from Olathe; and Annaleigh Hobbs, marketing and economics, and Margaret "Maggie" Horton, elementary education, both from Overland Park.

Max Harman, biochemistry and global food systems leadership, Inman.

From Manhattan: Ella Bahr, life sciences and pre-optometry; Lily Colburn, political science and natural resources and environmental science; and Natalia Rodriguez, management and Spanish.

Abby Goins, agricultural education and global food systems leadership, Oswego; Peyton Kavanagh, biology and pre-medicine, Salina; Michael Dowd, animal sciences and industry, Spring Hill; Noah Ochsner, agricultural communications and journalism, Tribune; Cheyanne Brunner, psychology and gender, women and sexuality studies, Wamego; and Scuyler Zenger, food science and industry and global food systems leadership, Washington.

From out of state: Sydney Henry, finance and marketing, St. Louis, Missouri.