McCain Connected offering

Blind Boys of Alabama

livestream performance for Easter weekend



Friday, March 5, 2021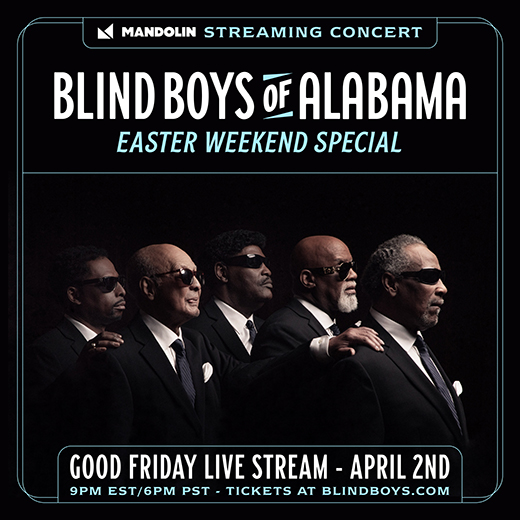 Catch a livestream concert

April 2

by gospel group the Blind Boys of Alabama offered through K-State's McCain Connected Series.
| Download this photo.

MANHATTAN — Celebrate Easter with a special livestream performance of the highly honored gospel group Blind Boys of Alabama, offered through the McCain Connected Series at Kansas State University.

Easter is a special time for any gospel group, especially a band that jammed with the Easter Bunny, known as "E.B." in the classic kids' film "Hop." The Blind Boys of Alabama Easter Weekend Special, at 8 p.m. CDT on Good Friday, April 2, from the City Winery in Nashville, will feature a fresh set of old and new songs. The Blind Boys are known for crossing multiple musical boundaries with interpretations of everything from traditional gospel favorites to contemporary spiritual material by songwriters such as Eric Clapton, Prince and Tom Waits.

Tickets are $18 for a single entry into the livestream concert or $25 for one household entry. Tickets are available on the McCain Facebook page and YouTube channel. A portion of every ticket sold will benefit K-State's McCain Auditorium.

The Blind Boys of Alabama have been recognized worldwide as a living legend of gospel music, attaining the highest levels of achievement in the group's more than 70 years of performing. Honors include Lifetime Achievement awards from the National Endowment for the Arts and the Recording Academy, induction in the Gospel Music Hall of Fame and five Grammy Awards.

The group also has recorded with many artists, including Lou Reed, Peter Gabriel, Bonnie Raitt, Willie Nelson, Aaron Neville, Susan Tedeschi, Ben Harper, Patty Griffin and Taj Mahal, and appeared on "The Tonight Show," "Late Night," "60 Minutes," "The Colbert Report" and more.