University-licensed compound selected as candidate against COVID-19
Tuesday, Jan. 26, 2021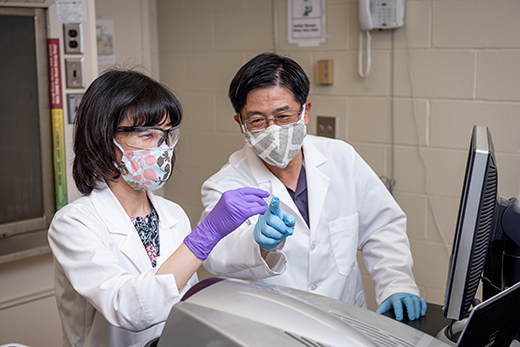 Yunjeong Kim, left, and Kyeong-Ok "KC" Chang, both virologists in the Kansas State University College of Veterinary Medicine who have developed broad-spectrum protease inhibitors that have been selected as the preclinical lead compound for further development by Cocrystal Pharma. | Download this photo.
MANHATTAN — As the pandemic continues, hope is in sight with the production and distribution of new vaccines and treatments. Kansas State University is continuing to help in the fight with a licensed technology against coronaviruses, including SARS-CoV-2, the virus that causes COVID-19.

Cocrystal Pharma, a clinical-stage biotechnology company, recently announced that a series of broad-spectrum protease inhibitors developed at K-State and licensed through K-State Innovation Partners in April 2020 has been selected as a preclinical lead compound for further development.

The licensed protease inhibitors were developed by Kyeong-Ok "KC" Chang and Yunjeong Kim, virologists in the K-State College of Veterinary Medicine, in collaboration with William Groutas at Wichita State University and Stanley Perlman at the University of Iowa.

"The current FDA-approved drugs for COVID-19 have different mechanisms of action," Kim said. "Further studies are required to reveal the therapeutic potency of our protease inhibitor compared to other approved drugs. Drugs targeting different virus proteins are often combined to maximize their efficacy, so it is always nice to have a repertoire of drugs that work in different ways."

Preclinical animal studies of these K-State coronavirus compounds published in the prestigious medical journal Science Translational Medicine showed in vivo efficacy against Middle Eastern respiratory syndrome, or MERS, a related deadly human coronavirus infection, in a mouse model. Further testing allowed Cocrystal to identify this promising candidate for preclinical lead development for COVID-19. According to the company, there is significant potential for delivering this compound either for injection or inhalation and for potential use as both a therapeutic and prophylactic, protecting uninfected individuals who may become exposed.

"Choosing a preclinical candidate is a very significant milestone decision," Chang said.

With the selection of this candidate, the company will initiate studies to evaluate potential toxicity risks and conduct safety pharmacology studies before the phase 1 clinical trial.

"It is very exciting to see the basic research from Drs. Chang and Kim and their colleagues translated into drug development to fight COVID-19," said Beth Montelone, K-State interim vice president for research.

This is one of several new technologies that K-State has licensed to corporate partners to combat the disease. Additionally, more than $7.7 million in contracts for COVID-19 research at K-State have been secured.

"Long before COVID-19 came along, we worked collaboratively on protease inhibitors for important human and animal viruses, such as MERS, human norovirus and feline infectious peritonitis, a deadly feline coronavirus infection — some of which are also under commercial development," Kim said. "So, we think that our research, along with other high-impact COVID-19-related research currently going on at Kansas State University by many different laboratories, shows our strengths as a research institution."