Student construction chapter spends winter break time volunteering for service project
Friday, Jan. 29, 2021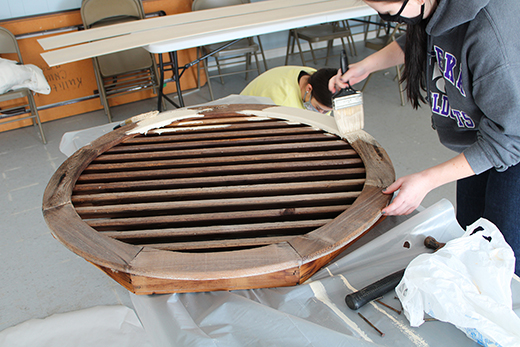 Members of K-State's student chapter of Kansas Associated General Contractors work on restoration project near Idabel, Oklahoma, over winter break. | Download this photo.
MANHATTAN — The Associated General Contractors of Kansas Student Chapter at Kansas State University in the GE Johnson Department of Architectural Engineering and Construction Science recently returned from its annual winter break service project. Nine chapter members, two faculty advisers and one alumnus spent Jan. 10-15 on a construction effort near Idabel, Oklahoma.

Chapter members from K-State have organized and participated in these service work trips over the winter break for more than 10 years, with the majority of previous trips coordinated through Habitat for Humanity's Collegiate Challenge program.

"Due to COVID-19, Habitat for Humanity suspended this program for 2020-21," said Shannon Casebeer, assistant professor, Jim and Carolyn Grier construction science chair and faculty adviser for the Associated General Contractors of Kansas Student Chapter, "but our students did not want to give up on this fun and educational tradition, so we sought other opportunities and were fortunate to coordinate a service project through the United Methodist Committee on Relief."

All team members were tested for COVID and required to have negative results before leaving. Permission had been granted for department student organization,out-of-state travel by the university and all recommended precautions taken to ensure the safety of participants during the trip.

The project involved construction work on an existing structure, the Kulli Tuklo United Methodist Church that serves a local Choctaw Nation Native American community in Oklahoma. Even with the number of student participants down from a more normal 20 to 25 due to the pandemic, the team was still able to remove and replace deteriorated siding on the sanctuary portion of the church, and remove and replace a dormer structure over the front entrance.

"Most of the congregation is elderly, aging or physically unable to keep up with the maintenance needs of their church," Casebeer said, "so we stepped in to help them out."

Accompanying Casebeer in a faculty advisory role was Ray Buyle, K-State associate professor and department head of architectural engineering and construction science, and Tointon construction management chair. Drew Deters, a construction science graduate employed by BHS Construction, Manhattan, took personal vacation days to travel with the group and continue his experience of participating in these work trips as he had as a K-State undergraduate and chapter member.

The trip was funded through donations from industry firms such as JE Dunn, and Burns & McDonell, Kansas City, Missouri; BHS Construction and Hi-Tech Interiors, Manhattan; and Martin K. Eby Construction and Key Construction, Wichita, all companies who also hire K-State architectural engineering and construction science students and graduates.

K-State students participating in the project:

Dalton Joyce, senior in architectural engineering, Edwardsville; Madelyn Salmonowicz, sophomore in architectural engineering, Eureka; John Files, senior in construction science, Quenemo; Tyler Collins, senior in construction science, Rose Hill; Evan Johnson, senior in construction science, Shawnee; Caleb Reed, junior, and Kelsey Robinett, senior, both architectural engineering, Topeka; and Carley Phelps, junior in architectural engineering, Wichita.

From out of state: Ridgely Hatton, junior in construction science, Manor, Texas.