Recent park management and conservation grad named Presidential Management fellow
Friday, Dec. 4, 2020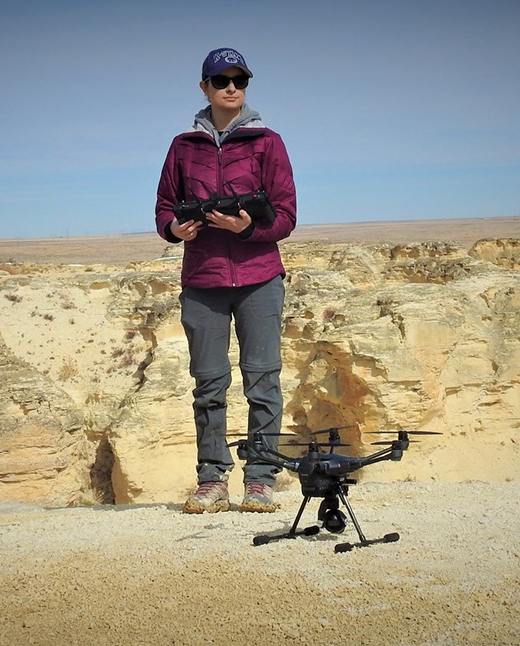 Kristen Sikorsky uses a drone for long-term monitoring of Kansas' newest park, the Little Jerusalem Badlands State Park in Logan County. The research was conducted for her thesis. Sikorsky is a May 2020 master's graduate of Kansas State University's park management and conservation program. | Download this photo.
MANHATTAN — A prestigious federal fellowship will help a recent Kansas State University park management and conservation graduate with her goal of obtaining a leadership position with the U.S. Fish and Wildlife Service.

Kristen Sikorsky, a May 2020 master's graduate, has been selected as a Presidential Management Program finalist. Administered by the U.S. Office of Personnel Management, this flagship leadership development program matches outstanding graduate students with federal opportunities. Finalists are selected through a rigorous application process.

Sikorsky, Narragansett, Rhode Island, is among only 8% of the 6,800 applicants selected for the 2021 fellowship class. She applied for the program as a way to fast-track a career in federal service leadership. Through the program, finalists are matched with the federal agency of their choice for two-year fellowships and possible appointment to that agency once their fellowship has been served.

"Serving my fellowship with the U.S. Fish and Wildlife Service would allow me to contribute as a public servant within a leadership position with the agency that could make the best use of my own knowledge and talents, utilizing my skills for society's betterment," Sikorsky said.

Sikorsky believes that safeguarding nature is as much about communicating with the public and involving a variety of stakeholders as it is about conducting research and passing laws, a belief she said is carried out in the multidisciplinary work conducted by the Fish and Wildlife Service.

"It is of great importance to me personally that I utilize both the knowledge I have gained throughout my schooling and my own personal talents to safeguard the incredible ecological diversity found in our country and preserve it indefinitely for future generations to appreciate," Sikorsky said. "The Presidential Management Fellowship is a once-in-a-lifetime opportunity that invests not only in career-level growth of fellows but personal growth as well. This program is the pathway to achieving the goals I've chased since I was young and I am so humbled to have been selected."

After earning a bachelor's degree graduate in environmental stewardship and education from West Liberty University in West Virginia, Sikorsky sought a graduate program that would emphasize supporting pristine habitats for native, endangered and rare species while allowing for tourism and recreation.

"The K-State park management and conservation program is like no other major as it allows students to pave their own path for the career they hope to one day achieve," Sikorsky said. "Not only was I able to select classes that best suited my goal and prepared me for my future career, but my professors and colleagues were always eager to communicate their knowledge and elevate the level of research conducted within our lab."

Sikorsky solidified her career interest through her thesis on ecological preservation of Little Jerusalem Badlands State Park. The newest state park in Kansas opened in 2019 and is co-managed by The Nature Conservancy and the Kansas Department of Wildlife, Parks, and Tourism. Sikorsky's research looked at improving long-term monitoring, a tool used to ensure protected habitats don't suffer from severe recreational use.

"I designed a novel protocol to test at Little Jerusalem that used drones to quickly and accurately collect indicator data — a practice that often falls to the wayside because of resource and budget limitations of conservation agencies," Sikorsky said. "Sure enough, the drone offered several benefits over traditional boots-on-the-ground fieldwork methods to collect indicator data, and ultimately helped managers to better understand the impacts unfolding at Little Jerusalem."

Ryan Sharp, associate professor of park management and conservation at K-State and Sikorsky's thesis advisor, believes she will be a tremendous asset to the Fish and Wildlife Service.

"I have known since day one that Kristen would excel in the field of conservation," Sharp said. "Few students have shown the consistent and relentless drive that Kristen has. The park management and conservation faculty are proud of what Kristen has accomplished by receiving this honor. We are also excited to see where this opportunity takes her."

In pursuing both her undergraduate and graduate degrees, Sikorsky said she was encouraged to hone her scientific writing and public speaking skills to effectively communicate her research to a broader audience. This included attending and presenting her work at five research conferences and winning the People's Choice Award at the 2019 K-State 3-Minute Thesis competition. She also was a member of K-State's chapter of the George Wright Society, which champions stewardship of parks, protected areas and cultural sites by connecting people, places, knowledge and ideas.