Veterinary students receive prestigious Lou and Norma Jane Ball scholarship
Friday, Nov. 20, 2020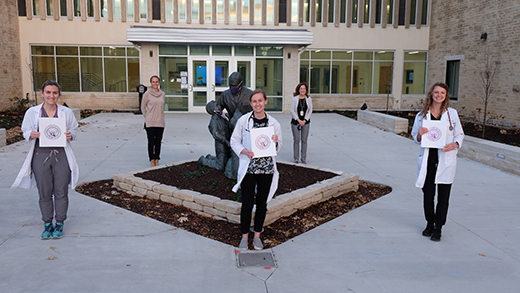 Lou and Norma Jane Ball Scholarship recipients, front row, from left, are Bailey Wright, Kathryn Ryan and Abby Ostronic. Back row, from left, are Raelene Wouda, assistant professor of oncology, and Bonnie Rush, dean of the College of Veterinary Medicine. | Download this photo.
MANHATTAN — Three fourth-year veterinary students at the Kansas State University College of Veterinary Medicine — Abby Ostronic and Kathryn Ryan, both from Lenexa, and Bailey Wright, Wichita — have received the Lou and Norma Jane Ball Scholarship.

The scholarship is designated for students who are in the top 10 percent of their class, have an interest in small animal medicine and surgery and have an excellent chance of being accepted into a residency program at a renowned institution. The endowed scholarship will pay the students' tuition, fees, books and living expenses for their senior year.

"Prestigious scholarships, such as those provided by the late Lou and Norma Jane Ball, recognize the impressive efforts of some of the college's highest-performing veterinary students and hopefully encourage them to consider pursuing further specialized study," said Raelene Wouda, assistant professor of oncology. "It is a great privilege to present these awards to such a wonderful group of students."

Louis Ball established the scholarship in memory of his wife, Norma Jane. The couple had four cats, lovingly called "the kids," that received lifelong care at the K-State Veterinary Health Center.

Ostronic said she was honored and grateful to receive the Lou and Norma Jane Ball Scholarship.

"With the aid of this scholarship, I can feel more secure in my decision to complete a rotating small animal internship and residency to pursue specialization in either internal medicine or oncology," Ostronic said. "One day I will be able to help cats and dogs that are loved just as much as Lou and Norma adored the cats they brought to K-State over the years."

"I feel extremely lucky to have received this scholarship," Ryan said. "When College of Veterinary Medicine Dean Bonnie Rush shared the history behind the scholarship, I was reminded of how lucky I am to be a part of a profession that strives to foster the relationship between people and their pets. My fourth year of veterinary school at K-State continues to teach me more than I could have asked for."

Wright said receiving the Lou and Norma Jane Ball Scholarship means a great deal to her.

"This award is a tremendous honor and I feel grateful to have so many clinicians and mentors here at the Veterinary Health Center who have motivated me to achieve an award like this," Wright said. "This award is a reminder that my efforts each day to learn how to become a better doctor, provide quality care to my patients, and encourage my peers do not go unnoticed."