Livestream show 'GO NOW! A Tribute to The Moody Blues — Live From London' supports McCain
Thursday, Oct. 8, 2020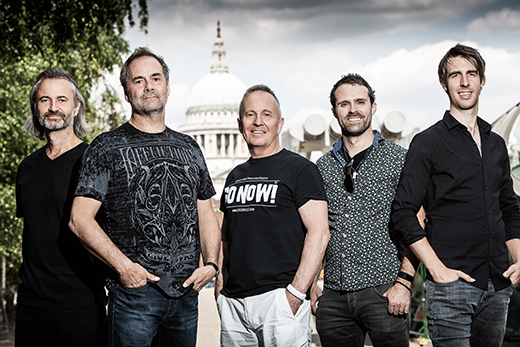 GO NOW!, a Moody Blues tribute band, is offering a livestream performance at 2 p.m. CDT Saturday, Oct. 17. Tickets are available at gonowmusic.com and $5 of the $15 cost per household will be given to McCain Auditorium. | Download this photo.
MANHATTAN — McCain Auditorium at Kansas State University is offering a special opportunity to enjoy the music of British supergroup The Moody Blues via livestream as performed by GO NOW!, a tribute band led by Gordon Marshall, a longtime drummer for The Moody Blues.

"GO NOW! A Tribute to The Moody Blues — Live From London" will be livestreamed from London's iconic Harlequin Theatre at 2 p.m. CDT Saturday, Oct. 17. The performance marks the first time since early spring that the band will come together and perform in a brand new, never before seen concert.

While tickets, which cost $15 per household, for this livestream event are not available through McCain Auditorium, they can be purchased at https://gonowmusic.com, with one-third of the profits being returned to McCain Auditorium. Once the purchase is made, the patron will be emailed an exclusive link from the band for the livestream. The link will not be available through McCain Auditorium. The link will be good for two weeks if the concert cannot be viewed live.

The Moody Blues were part of the original British invasion of supergroups in the 1960s and inspired fans for five decades with provided rock fans with inspiring anthems "Nights in White Satin," "Tuesday Afternoon" and "I'm Just A Singer (In A Rock and Roll Band)," which express universal themes of love, compassion and peace. The group has sold in excess of 70 million albums worldwide and has been awarded 14 platinum and gold discs.

Mick Wilson, the lead singer of GO NOW!, was the lead singer with the rock band 10cc for over 20 years. Marshall and Wilson will be joined on stage by Patrick Duffin, Ryan Farmery and Nick Kendall, and together recreate the music of The Moody Blues, including all the major hits.

For more details, please visit the GO NOW! website, https://gonowmusic.com/.