Fall 2020 brings university's highest retention, graduation rates
Thursday, Oct. 1, 2020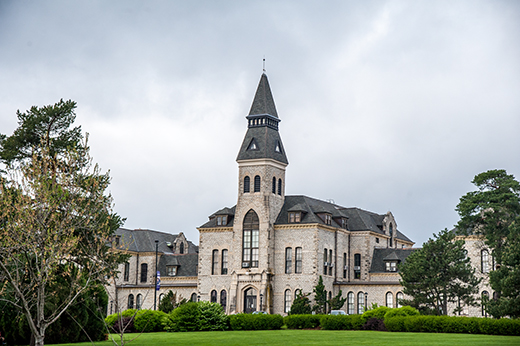 For fall 2020, freshman-to-sophomore retention is up 1.3% to a record 87.1% at Kansas State University. K-State's four- and six-year graduation rates also set records.


MANHATTAN — Kansas State University's fall 2020 enrollment numbers show strong progress is being made in student success, with records set for student retention and the university's four- and six-year graduation rates. Online program enrollment continues to climb as well.

Fall 2020 enrollment at Kansas State University is mirroring national and state trends related to the COVID-19 pandemic, said Karen Goos, vice provost for enrollment management. The university's overall enrollment is 20,854, down 865 students from a year ago, for a 4% drop. Enrollment on the Manhattan campus is down 6.1% in all students, with the majority of the dip in undergraduate student enrollment, which is down 6.9%.

Goos said that despite the drop, the university's strategic enrollment management efforts are showing progress in the university's recruitment efforts with a 7.5% increase in applications before the pandemic.

"Our 4% drop is much lower than expected and we know the next year will bring strong opportunities for growth when our new Missouri Tuition Match Program, providing in-state tuition to qualified Missouri students, takes effect in fall 2021," Goos said. "Our new scholarship plans also are making a difference and helping more students, with more than $46 million awarded to K-State students this academic year."

On the growth side this fall, undergraduate enrollment is up on both the Kansas State University Polytechnic and K-State Olathe campuses. Online program enrollment also jumped by 10.8%.

The most significant growth is in K-State's student retention and graduation rates. Freshman-to-sophomore retention is up 1.3% to a record 87.1%. Moreover, the student retention rate is up 7% since the university put plans in place to reach a 90% retention rate by 2025.

K-State's four-year graduation continues to climb with a 5.4% increase, while the six-year graduation rate is up 2.3% for the year to 67.5%. The six-year rate is up 11% since the university set a goal of hitting 70% by 2025.
"These increases are strong and indicate that our first-year student success programs and overall student-first approaches help keep students at K-State," said Jeannie Brown Leonard, vice provost for student success.

Because of the enrollment dip, overall student credit hours are down 5.1%, with most of the decline in undergraduate credit hours. Increasing though, by 1.3%, are graduate credit hours. K-State conferred its most doctorates ever — 211 — in the 2019-2020 academic year.