Computer science professor to head NSF-funded open science grid expansion across Great Plains
Friday, July 10, 2020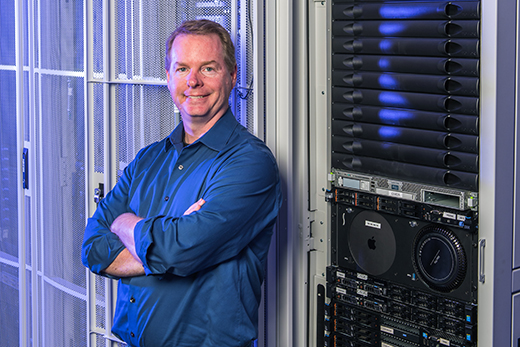 Daniel Andresen, professor of computer science at Kansas State University.

| Download this photo.



MANHATTAN — Daniel Andresen, director of the Institute for Computational Research in Engineering and Science and computer science professor in the Carl R. Ice College of Engineering at Kansas State University, has been awarded more than $350,000 from the National Science Foundation to lead a project in support of computational and data-intensive research across the region.

The three-year effort, "The Great Plains Augmented Regional Gateway to the Open Science Grid," is sponsored by the NSF's Office of Advanced Cyberinfrastructure and will create a regional, distributed Open Science Grid Gateway led by the Great Plains Network. Collaborators includePratul Agarwal, Oklahoma State University;Timothy Middelkoop, University of Missouri, Columbia;Stephen Wheat, Oral Roberts University; and Ryan Johnson, University of South Dakota.

The proposal is designed to accelerate the adoption and experience of advanced high-throughput computing and data resources by developing a model for enhanced distributed computational systems.

"This project will multiply the number of open science grid sites in the Great Plains Network region by a factor of eight, adding at least 2,048 cores dedicated to open science grid use and providing potential access to more than 42,000 additional existing cores at participating institutions," Andresen said.

Adding these core sites at university research centers across the Great Plains is designed to accomplish the following key objectives: improve campus awareness and adoption of advanced, high throughput computer-oriented operations for STEM research and education activities; increase the number and capabilities of campus research computing and data professionals; and enable deployment and operation of research and education cyberinfrastructure to make science more efficient, trusted and reproducible.

"This funded work will help drive K-State's research and education goals forward by deepening ties with more than a dozen regional institutions," Andresen said, "in turn adding to our ability to support research and education on a regional scale and extend the K-State family to include hundreds of students and faculty."

The Great Plains Network connects universities and state networks throughout the Midwest and Great Plains. The network has 22 full members, including K-State, the University of Kansas and Wichita State University, as well as affiliate members from across the region.