University hosting drive-thru flour distribution
Tuesday, June 9, 2020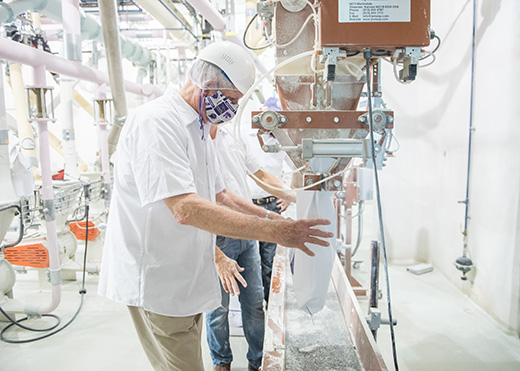 Kansas State University President Richard Myers assists with the flour production on June 4 at the Hal Ross Flour Mill. The university will distribute 1,500 10-pound bags flour to those in need from 3-7 p.m. June 18. | Download this photo.
MANHATTAN — Three months after Kansas State University implemented limited operations and moved to remote instruction, the Department of Grain Science and Industry has brought the Hal Ross Flour Mill back online to manufacture flour for those in need in the local community.

The university will host a drive-thru flour distribution from 3-7 p.m. Thursday, June 18, at the Hal Ross Flour Mill, 1980 Kimball Ave., Manhattan. There is no charge for the flour, which will be limited to one 10-pound bag per vehicle and is not for resale.

As safer at home orders began, faculty noticed the absence of flour at local supermarkets and wondered if the university's milling facilities could be used to aid the local community. This idea received unanimous support from college and university leadership and moved into the planning stages several weeks ago.

"We know people are struggling with basic food supplies, including flour. It's something K-State and the department could do," said Gordon Smith, professor and head of the grain science and industry department. "We have a mill, we have highly skilled faculty to run the mill, and continued support from the Kansas Wheat Commission and Kansas wheat farmers. It is a locally sourced, farm-to-table, philanthropic endeavor by K-State."

Recently, 20,000 pounds of wheat was milled by departmental faculty with special help from K-State President Richard Myers. Ten hours of milling yielded 15,000 pounds of all-purpose white flour. The remaining parts of the wheat berry not used in the flour will be used for animal feed.

"The Kansas Wheat Commission and the K-State Department of Grain Science and Industry have a long history of working together on projects for the wheat industry, combining stakeholder input with the department's flour milling expertise," stated Justin Gilpin, chief executive officer for the Kansas Wheat Commission and Kansas Association of Wheat Growers. "Kansas wheat farmers were glad to help support this project. Wheat is a staple food for many Americans and this project by K-State will help put it in the hands of people in need."

The university plans to donate any flour not distributed on June 18 to the Flint Hills Breadbasket in Manhattan and Harvesters in Topeka.

K-State is the only higher education institution in the world that offers bachelor's degrees milling, bakery and feed science and management, which are available through the Department of Grain Science and Industry in the College of Agriculture.