Fashion studies degree available this fall at K-State
Friday, May 1, 2020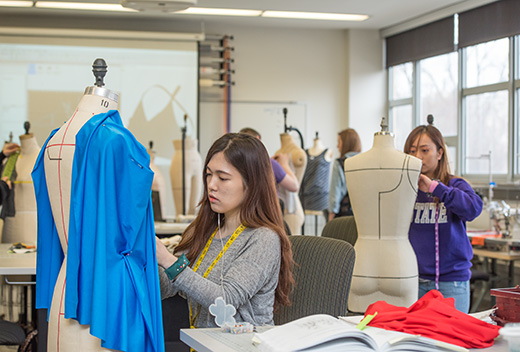 Beginning this fall, students can earn a Bachelor of Science in fashion studies at Kansas State University.

| Download this photo.



MANHATTAN — Kansas State University will offer a Bachelor of Science in fashion studies beginning this fall. The degree, offered through the Department of Interior Design and Fashion Studies in the College of Health and Human Sciences, will replace the current apparel and textiles degree.

The fashion studies program focuses on human well-being related to the human need for clothing and textile products. As the only four-year fashion studies program in the state of Kansas, students are prepared to meet the needs of the current fashion industry and to advance it toward a more socially and environmentally resilient industry throughout their careers. The program looks to inspire students to envision fresh new approaches to the global challenges facing every aspect of the fashion industry. Graduates are provided the aesthetic, practical, technical, professional and intellectual skills needed for a variety of roles. Students in the program will be able to specialize in either fashion business or fashion design.

The program will still feature faculty and curriculum that have been recognized as some of the best in the nation. In 2019, Fashion-schools.org ranked the apparel marketing, now fashion business, specialization fourth among schools in the Midwest and 17th nationally. The apparel design and production, now fashion design, specialization ranked fifth among Midwest schools and 23rd nationally. The fashion-schools.org rankings are based on factors including the schools' admission data, graduation success, reputation, and survey results conducted with the school and industry stakeholders. A full list of the 2019 rankings can be found at fashion-schools.org.

The fashion studies program is accredited by the Textiles and Apparel Program Accreditation Commission.

Students interested in the fashion studies program should contact Hannah Schuh, student services coordinator, at hannaheb@k-state.edu. More information on the program can be found at hhs.k-state.edu/idfs/fashion-studies.