Two K-State faculty members honored as newest university distinguished professors

Tuesday, April 21, 2020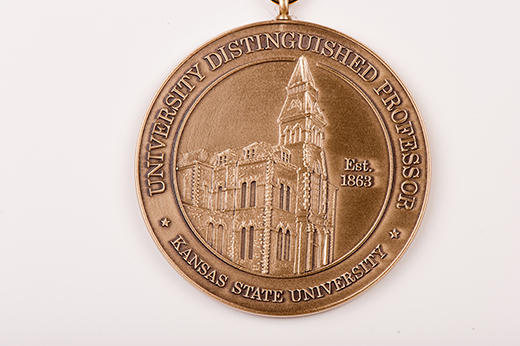 The title of university distinguished professor is a lifetime title and is the highest honor that Kansas State University bestows on its faculty members.

MANHATTAN — Kansas State University has named two professors as 2020 university distinguished professors, which is a lifetime title that is the highest honor the university bestows on its faculty members.

The professors receiving the distinction include Christine Aikens, professor of chemistry, and Thomas Barstow, professor of kinesiology.

"Dr. Aikens and Dr. Barstow both demonstrate our land-grant mission of excellence in teaching, research and service," said Charles Taber, university provost and executive vice president. "They are both leading researchers in their fields with excellent records of teaching and mentoring students. They are well-deserving of this distinction."

University distinguished professors are appointed following a universitywide nomination and evaluation process conducted by the provost. Both faculty members will receive a personalized plaque and medallion at the university's fall 2020 commencement ceremonies.

Aikens is an expert in physical chemistry and her research group aims to develop a theoretical understanding of the relationship between structure and properties of nanomaterials. She studies the structure and spectroscopic properties of gold and silver nanoparticles and nanoparticle arrays and the reactivity of nanostructured metal oxide particles.

Aikens came to K-State in 2007. Her research has been supported by more than $3.2 million in funding from organizations such as the National Science Foundation, the Department of Energy and the Air Force Office of Scientific Research.

She has published more than 110 articles in scientific publications and has given more than 150 professional presentations. She has served as a reviewer for 37 journals and a proposal/award reviewer for six organizations, including the National Science Foundation and the U.S. Department of Energy. She has organized eight conferences and has mentored more than 43 postdoctoral researchers and students, including high school, undergraduate and graduate students.

Aikens received the 2020 Women Chemists' Committee Rising Star Award and was a Kavli Frontiers of Science fellow in 2012. At K-State, she received the 2017-2018 Commerce Bank and W.T. Kemper Foundation Distinguished Faculty Award and the 2014 Segebrecht Distinguished Faculty Achievement Award. She was inducted in 2013 to the Kansas State University Academy of Fellows.

Before joining K-State, Aikens was a postdoctoral research fellow at Northwestern University. She earned a doctoral degree in physical chemistry from Iowa State University and graduated summa cum laude with a bachelor's degree in chemistry from the University of Oklahoma.

Barstow directs the Human Exercise Physiology Lab, where he studies the control of muscle metabolism, the integration of pulmonary and cardiovascular systems and the mechanisms of fatigue and exercise intolerance.

He has advised more than 76 undergraduate students, graduate students and postdoctoral researchers. His research has been sponsored with nearly $8.8 million in funding from organizations such as NASA, the American Heart Association and the National Institutes of Health.

Barstow has published more than 167 peer-reviewed papers, 180 abstracts and four chapters. He has given 65 invited lectures and presentations. He is a fellow of the American College of Sports Medicine and the American Physiological Society. At Kansas State University, he is a three-time recipient of the Professorial Award for Sustained Excellence and a two-time recipient of the Making a Difference Award from the Women in Engineering and Science Program.

Before joining K-State in 1996, Barstow served in research and faculty positions at the University of California, Davis; Harbor-UCLA Medical Center; and V.A. Wadsworth Medical Center. From 2002 to 2003, he was a visiting professor at The Manchester Metropolitan University in Manchester, United Kingdom.

Since 2007, Barstow has served as the graduate program coordinator for the university's department of kinesiology. He earned a doctoral degree in physiology, a master's degree in physical education and a bachelor's degree with honors in nutrition — all from the University of California, Davis.