Chemical engineer working to unlock the role of hydrogen sulfide for treatment of disease
Wednesday, April 15, 2020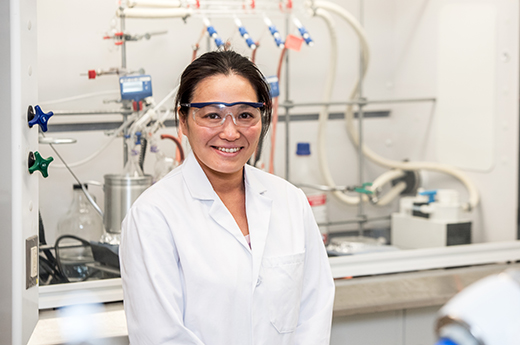 Urara Hasegawa, assistant professor of chemical engineering at Kansas State University.

| Download this photo.



MANHATTAN — Funded by a National Science Foundation CAREER award, a Kansas State University chemical engineering professor is taking on the challenge of discovering new treatments for diseases such as Alzheimer's and cancer.

The more than $500,000 research grant will support Urara Hasegawa, assistant professor in the Tim Taylor Department of Chemical Engineering and Warren and Gisela Kennedy Keystone research scholar, in her project "Understanding the biological functions of the gasotransmitter hydrogen sulfide using a polymer engineering approach."

Hydrogen sulfide, or H2S, is an essential molecule in the human body. Accumulating evidence suggests it may play an important role in cancer, brain diseases such as Alzheimer's disease, and heart disease.

"What has been missing, however, is an in-depth understanding of this molecule's function," Hasewaga said. "Unlocking that key could lead to the development of novel therapeutic approaches to these diseases."

The project, by incorporating chemical engineering and polymer science techniques, will develop tools to advance the fundamental understanding of H2S in the human body.

"The NSF-funded activities will provide outstanding educational and research opportunities in biomaterials science, inspire students at all levels to develop career paths in this important field and contribute to the educational mission of K-State," Hasegawa said.

National Science Foundation CAREER awards are given in support of junior faculty who exemplify the role of teacher-scholars through research, education and the integration of education and research within the context of the mission of their organizations. The award comes with a federal grant for research and education activities for five consecutive years.