Chimes Junior Honorary selects 2020-2021 members
Friday, April 10, 2020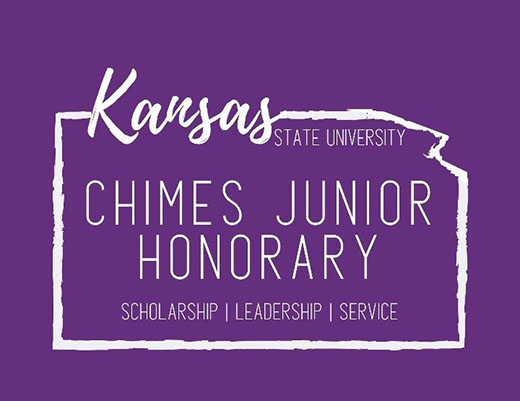 Chimes, the junior honorary at Kansas State University, has selected new members for the 2020-2021 academic year.
MANHATTAN — Twenty-eight students at Kansas State University have been named members of Chimes, the junior honorary, for the next academic year.
Chimes members are selected for their leadership, scholarship and service to their fellow students at K-State and their community. Applicants also must have a 3.0 GPA or above. Chimes activities include selecting the K-State Family of the Year and members participate in monthly service projects in Manhattan and selected communities.

The following students, all who will be in their third year at K-State in the 2020-2021 academic year, are new members of Chimes; included are majors and hometowns:

Jordan Cutsinger, interior architecture & industrial design, El Dorado; Tracy Neis, agricultural economics, Eudora; Brittney Ellerman, athletic training, Garden City.

From Greater Kansas City: Sydney Sprague, human development and family science, Kansas City; Michael Porter, political science, Leawood; Marone Shimekt, management, Lenexa; Chase Gigstad, dietetics, Olathe; Angela Guieb, mechanical engineering, Isaac Harnden, management and pre-law, and Peter Sears, history and anthropology, all from Overland Park.

Tyler Blochlinger, business administration, Gypsum; Evan Fox, business administration, Holton; Britta Beesley, personal financial planning, Hugoton; Cody Ballou, political science, and Jackson Boyle, business administration, both from Manhattan; Nathan Vontz, computer engineering, McPherson; Cassidy Finley, hospitality management, and Mackenzie Porter, life sciences, both from Moundridge; Jayden Hanna, animal sciences and industry, Richfield; Kelsey Warren, biomedical engineering, St. George; Jackson Willis, political science, Tonganoxie; Caroline Gatschet, animal sciences and industry, and pre-veterinary medicine, and Kaitlin Hiestand, business administration, both from Topeka; Cadence Ciesielski, philosophy and Spanish, Valley Center.

From Wichita: Caitlin Riordan, political science; Mia Kossover, sociology; Presley Chan, mechanical engineering; and Shymel Townes, agricultural economics.