NSF announces CAREER award for K-State chemical engineer
Friday, April 24, 2020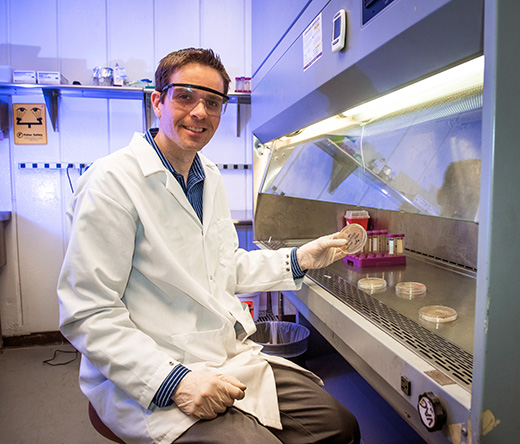 Ryan Hansen, assistant professor

of chemical engineering at Kansas State University.

| Download this photo.


MANHATTAN — Photodegradable hydrogels have been intensively studied for application in tissue engineering and targeted drug delivery. Although these materials have been largely unexplored for use in microbiology, they have great potential for isolation of rare bacteria and on-demand delivery of therapeutic bacteria to targeted disease sites.
This will be the research focus of Ryan Hansen, assistant professor and Steve Hsu Keystone research scholar in the Tim Taylor Department of Chemical Engineering at Kansas State University, who has been announced by the National Science Foundation as a recipient of its CAREER award.

Jointly funded by the NSF Biomaterials Program through the EPSCoR program, Hansen will receive more than $500,000 for his project, "Understanding bacteria encapsulation, proliferation and release in photodegradable hydrogel materials."

"We will investigate the chemical and physical properties of hydrogels that lead to stable encapsulation of bacteria while keeping them alive, as well as the use of nanoparticle additives that enable controlled hydrogel degradation and bacteria release using a near-infrared light source," Hansen said.

The hydrogels will provide a new and versatile approach to isolating rare bacteria cells that show unique behavior for molecular study, enabling researchers to connect a microorganism's function with its genetic makeup.

"The project will create new research avenues at K-State in areas of human health and food safety," Hansen said, "and will produce globally minded students prepared for cross-cutting careers in materials science and microbial biotechnology."

Hansen will integrate his research into an educational plan through the Joint Microbe-Material Scholars program, which involves both undergraduate and graduate students in four areas: an international student exchange with collaborators in food microbiology; an external outreach mechanism designed to engage and recruit minority students throughout the state of Kansas; a microbe-material course that uses an interdisciplinary guided-inquiry teaching method; and public engagement.

"This joint endeavor will leverage other successful programs at Kansas State University for reaching broader audiences, including the Kansas-Louis Stokes Alliance for Minority Participation program, Project IMPACT and Science on Tap," Hansen said.

National Science Foundation CAREER awards are given in support of junior faculty who exemplify the role of teacher-scholars through research, education and the integration of education and research within the context of the mission of their organizations. The award comes with a federal grant for research and education activities for five consecutive years.