Recent graduates report higher job placement, continuing education rates and higher starting salaries
Wednesday, Feb. 19, 2020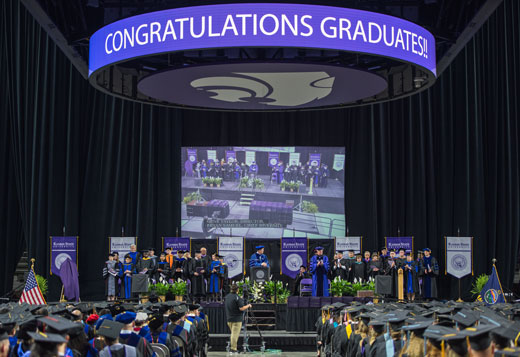 Kansas State University graduates report higher job placement and continuing education rates as well as higher salaries in the most recent post-graduation report.

| Download this photo.



MANHATTAN — Kansas State University's student-centered approach to higher education is consistently influencing employment rates and career success for recent graduates.

"Thanks to support from the entire university community, the class of 2018-2019 found continued success in pursuing a variety of job and educational opportunities," said Kerri Day Keller, director of the university's Career Center. "This year's bachelor's degree graduates set another placement record of 97% securing employment or furthering their education within six months of graduation."

Keller's statistics are from the university's recently released post-graduation report, an annual report that shows a 1% increase in employment and continuing education rates. With an 81% response rate, the increase has become a reoccurring trend. According to the 2019 report, 96% of 2017-2018 bachelor's degree graduates were employed or pursuing further education six months after they graduated. That number was 95% for 2016-2017 graduates and 94% for 2015-2016 graduates according to the respective reporting years.

"Kansas State University faculty and staff are deeply committed to students' personal and academic success and it shows," said Thomas Lane, vice president for student life and dean of students. "This student-centered approach helps K-Staters become highly desirable in the job market and get an immediate return on their investment."

The 2018-2019 bachelor's degree graduates reported a higher median salary at more than $48,000 six months after graduation. Graduates across all degrees were employed by more than 3,400 different organizations and enrolled in more than 740 different educational programs.

"Compared to one year ago, we are pleased to see about a 7% increase to the overall salary average for new bachelor's degree recipients," Keller said.

In addition, Kansas remains the top state for employment of K-State graduates at 56%, and 76% of bachelor's degree graduates were employed in the five-state area of Kansas, Colorado, Missouri, Nebraska and Oklahoma. The span of K-State graduates is wide too. New graduates are employed in 49 states and more than 30 countries.

According to Keller, the variety of opportunities available to K-State students boosts their career readiness.

"Beyond the classroom, K-State students gain marketable skills and experience through a wealth of opportunities such as internships, education abroad, undergraduate research, campus employment, student organizations, leadership opportunities and more," Keller said. "We are fortunate to have a universitywide learning environment that supports the career readiness and employability of our students."

The university offers a variety of student success programs from freshman year to graduation, such as K-State First, a comprehensive program to help new students adjust to campus life, and one of the largest career fairs in the Big 12. In addition, the university has an 18-to-one student-to-teacher ratio and about 92% of classes have fewer than 53 students.