Online Professional MBA ranked among nation's top 25 programs
Tuesday, Jan. 14, 2020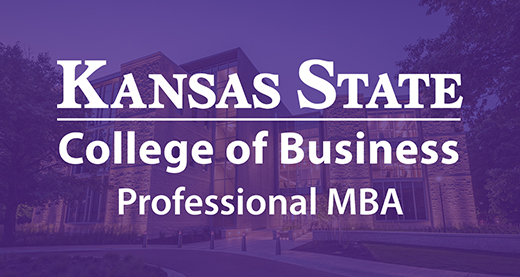 Out of 321 online programs considered, the Kansas State University Professional Master of Business Administration program is ranked 25th in the nation by U.S. News and World Reports. | Download this photo.


MANHATTAN — The online Professional Master of Business Administration program at Kansas State University was recently rated as the 25th best in the nation by U.S. News and World Report's 2020 Best Online MBA Programs.
With this Top 25 ranking among the 321 programs considered, K-State's PMBA program is ranked first in the Big 12, first in Kansas, 19th for veterans and 20th among public universities. The latest ranking marks the program's highest since debuting at 95th in 2016, the first year the program was eligible to be included in the rankings, and significantly higher than last year's ranking of 58th.

"The goal has been to deliver a program that provides our students with the business education, tools and network to take their careers to higher levels," said Kevin Gwinner, Edgerley family dean of the K-State College of Business Administration. "Our rise in the rankings is indicative of our ability to not only fulfill this goal but also further evidence of our faculty's commitment to continuous improvement and supporting the academic success of our students."

The PMBA program was designed for professionals with at least three years of post-baccalaureate work experience who wish to earn their degrees online while simultaneously continuing to build successful careers. The program's quality is evidenced by its prestigious accreditation from the internationally recognized Association to Advance Collegiate Schools of Business, which is awarded to fewer than 5% of programs worldwide. Students receive instruction from the same faculty who are teaching K-State's on-campus MBA students and who are also actively engaged in research, which keeps the program's content current and immediately applicable to each student's day-to-day work life.

"To be recognized as a top 25 program in the country is a tremendous honor," said Chwen Sheu, associate dean for academic programs and faculty of distinction/Paul Edgerley chair in business administration. "The strong commitment to putting students first exhibited by our faculty and staff has resulted in our students receiving a meaningful, personalized experience throughout their programs of study. The connections they make last beyond the completion of their degrees."

Another unique feature of the program is the requirement for each student to participate in a faculty-led international business trip where participants observe the application of principles learned in their courses in an international setting and engage in cultural activities that can be life-changing.

"There is nothing like traveling abroad with students who may be experiencing their first opportunity to explore another culture beyond the U.S. or even their own state's borders," said Suzy Auten, director of the PMBA program since its launch. "Developing connections that cross the globe has been one of the most enjoyable aspects of my position. The lifelong friendships that emerge among the travelers and our hosts are inspiring, and the stories of how individuals have been personally impacted by their experiences are truly moving."

The program has rolling admission with five starts each year in January, March, June, August and October. Applications are due at least one month before the desired start date. To learn more about the program or to apply, visit k-state.edu/onlinemba.