Ten graduate students earn honors at Research and the State
Monday, Nov. 11, 2019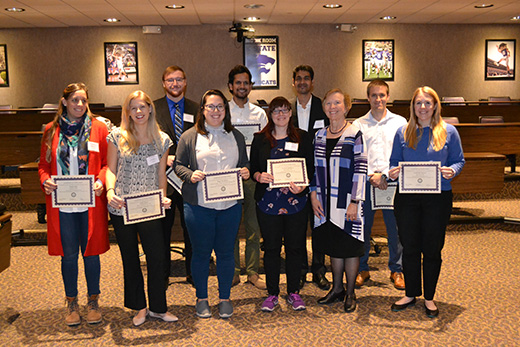 Winners of the annual Research and the State competition, from left: Paula Silva, Holly Speck, Randall Martin, Paige McAllister, Ashish Kumar, Hannah Quellhorst, Arvind Damodara Kannan, Carol Shanklin, Dryden Baumfalk and Catherine Stewart. Not pictured is Stephen Lauer. | Download this photo.


MANHATTAN — Research on insecticides, groundwater management, crop management, prostate cancer, survivors of sexual violence, and gender framing are the focus of some of the winning research presentations by Kansas State University graduate students who were selected to represent the university at the 17th Capitol Graduate Research Summit, Feb. 26, 2020, at the State Capitol in Topeka.
Ten students were chosen to present their work in Topeka based on their research presentations at Research and the State, Oct. 31, in the K-State Student Union.

Research and the State involved 41 participants from six academic colleges and 24 graduate programs. The event was sponsored by the Graduate Student Council, the Graduate School, and the Office of the Vice President for Research. Each winner receives a $250 scholarship.

"The winners of Research and the State showcase the outstanding and diverse research being conducted at K-State that has direct benefit to the state of Kansas," said Carol Shanklin, dean of the Graduate School. "The winners will communicate the value of their research to the state legislators, the Kansas Board of Regents and the public when they present at the Capitol Graduate Research Summit in February. This event is one of the many opportunities that the Graduate School and the Graduate Student Council collaborate to enhance our graduate students' ability to communicate their research to the public."

The Capitol Graduate Research Summit is an annual statewide summit that features current research of graduate students at Kansas State University, the University of Kansas, the University of Kansas Medical Center, Wichita State University, Emporia State University, Fort Hays State University and Pittsburg State University. A university professor and an industry representative will judge the poster and student presentations. The top presenter from each university will be awarded a $500 scholarship. In addition, BioKansas will present a $500 scholarship to a presenter from each university whose research has the greatest potential for commercialization.

The following Kansas State University graduate students were selected to present at the Capitol Graduate Research Summit:

• Dryden Baumfalk, doctoral student in kinesiology, Colby,for "Effects of prostate cancer and exercise training on left ventricular function and cardiac and skeletal muscle mass." Baumfalk's faculty advisor is Brad Behnke, professor of kinesiology.

• Randall Martin, master's student in grain science, Lincoln, Kansas, for "Functional starch properties of extrusion pre-cooked chickpea flours." Martin's faculty advisor is Sajid Alavi, professor of grain science and industry.

• Hannah Quellhorst, doctoral student in entomology, Lebanon, Indiana, for "Efficacy of novel, reduced-risk insecticides as an alternative management tactic for postharvest insects in food facilities." Quellhorst's faculty advisor is Rob Morrison, adjunct professor of entomology.

• Stephen Lauer, doctoral student in sociology, Des Moines, Iowa, for "Conserving Kansas communities through voluntary group efforts to manage Ogallala groundwater." Lauer's faculty advisor is Matthew Sanderson, professor of sociology, anthropology, and social work.

• Catherine Stewart, doctoral student in genetics, Baton Rouge, Louisiana, for "Seasonal effects of cover crops and phosphorus fertilizer management on PLFA and microbial biomass in a no-till corn-soybean cropping system in northeastern Kansas." Stewart's faculty advisor is Peter Tomlinson, associate professor of agronomy.

• Holly Speck, master's student in mass communication, Bradley Beach, New Jersey, for "Band of brothers (and sisters): Gender framing in U.S. Army commercial advertising." Speck's faculty advisor is Raluca Cozma, associate professor in journalism and mass communication.

• Paige McAllister, doctoral student in couples and family therapy, Morgan, Utah, for "Self-compassion in the aftermath of sexual violence." McAllister's faculty advisor is Amber Vennum, associate professor of family studies and human services.

• Arvind Damodara Kannan, doctoral student in biology, India, for "Beneficial recovery of ammonia from swine wastewater for reuse as targeted slow release fertilizer." Damodara Kannan's faculty advisor is Prathap Parameswaran, assistant professor of civil engineering.

• Ashish Kumar, doctoral student in biochemistry, India, for "Universal fluorescent sensors of high affinity iron transport, applied to Klebsiella Pneumoniae." Kumar's faculty advisor is Phillip Klebba, university distinguished professor of biochemistry and molecular biophysics.

• Paula Silva, doctoral student in genetics, Uruguay, for "Harnessing the wild side to improve wheat curl mite resistance." Silva's faculty advisor is Jesse Poland, associate professor of plant pathology.