Engineering professor awarded NSF grant to develop grid of nanogrids test bed
Wednesday, Oct. 23, 2019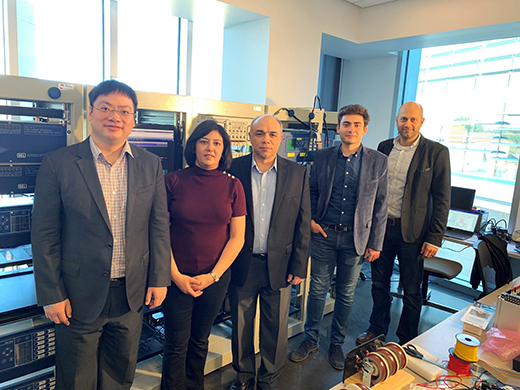 Kansas State University faculty funded by the National Science Foundation to develop a grid of nanogrids. From left: Hongyu Wu, computer science; and Fariba Fateh, Behrooz Mirafzal, Mohammad Shadmand and George Amariucai, all electrical and computer engineering. | Download this photo.


MANHATTAN — Recent advancements in artificial intelligence and the internet of things will profoundly affect the future of our infrastructure. One can imagine a smart city with interconnected transportation, utilities and smart buildings, each component capable of working independently and able to resist physical and cyberattacks. As such, each smart building could be considered as a grid of nanogrids capable of forming a larger network.
Behrooz Mirafzal, associate professor in the Mike Wiegers Department of Electrical and Computer Engineering in the Carl R. Ice College of Engineering at Kansas State University, has been awarded a three-year, $624,404 grant from the National Science Foundation Major Research Instrumentation Program for "Development of a Grid of Nanogrids Test Bed."

"The potential of grid-based networks has become a national priority and attracted the attention of many experts in both industry and academia," Mirafzal said.

This project will develop a hybrid and modular test bed that represents grid-forming smart buildings. Its instrumentation will be a collaborative effort between the electrical and computer engineering, and computer science departments at the university. Co-investigators include Mohammad Shadmand, Hongyu Wu and Fariba Fateh, all assistant professors of electrical and computer engineering; and George Amariucai, associate professor of computer science.

"Although the test bed will be designed for research on electricity infrastructure for future cities, it could be reconfigured for other applications such as testing marine and emerging airborne electrical propulsion systems," Mirafzal said, "and hence, can be applicable to a wide range of emerging applications and test scenarios."

The proposed test bed will provide the capability to examine hypotheses and research ideas on nanogrid controls, hardware, software, communications and security protocols, and standards under numerous operating conditions of the power distribution grid, including faults and anomalies in both islanded and networked modes.

"The grid of nanogrids test bed will feature a highly scalable, modular and reconfigurable architecture," Mirafzal said, "consisting of a real-time simulator platform for creating customized power networks designed by local and remote users, a single-phase feeder nanogrid, a three-phase nanogrid implemented in hardware, a modular self-learning inverter and the capability of extending the number of hardware-in-the-loop nanogrids."

The project will allow Mirafzal's team members to advance their research in fields such as power grid cybersecurity, energy management, supervisory control and situational awareness.