College of Architecture, Planning & Design receives top rankings from DesignIntelligence
Thursday, Oct. 17, 2019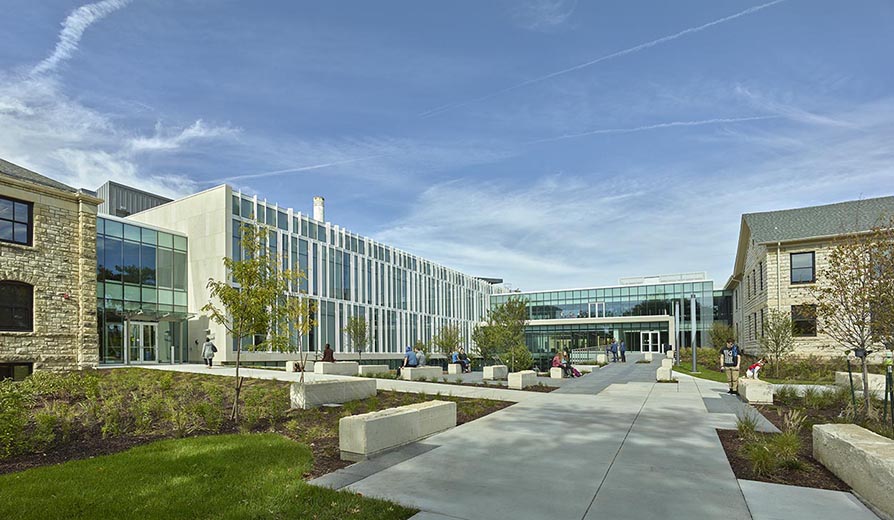 Graduate programs in architecture, landscape architecture and interior architecture offered by Kansas State University's College of Architecture, Planning & Design remain among the nation's best in the latest rankings from DesignIntelligence. Photo by Tim Hursley.
MANHATTAN — The Kansas State University College of Architecture, Planning & Design's graduate programs in architecture, interior architecture and landscape architecture continue to rank among the best in the nation according to the annual rankings by DesignIntelligence. The organization recently released its rankings of accredited professional programs in architecture, landscape architecture and interior design/architecture for 2020.

This year, the college's graduate program in interior architecture ranked seventh nationally and first among programs at public institutions. The graduate landscape architecture program ranked eighth in the nation overall and fifth among programs at public institutions. The graduate architecture ranked 24th in the nation and 10th among programs at public institutions.

DesignIntelligence's rankings are based on national surveys of hiring professionals, deans and department chairs, and students in the design disciplines. Hiring professionals are asked, based on their experiences in the last five years, which programs are best preparing students for a future in the profession. Deans and department chairs are asked what programs they most admire, and students are surveyed on their satisfaction with the educational institution in which they are currently enrolled or graduated from in the past year.

Reflecting the professions' appreciation for the college's programs, graduates in the interior architecture & product design and landscape architecture programs are first in most hired and architecture graduates are second in most hired rankings among similar-sized graduate programs.

"The College of Architecture, Planning & Design, or APDesign, ranks prominently across the entire spectrum of design, said Tim de Noble, dean of the college and fellow of the American Institute of Architects.

"This year's DesignIntelligence rankings once again point to the national reputation of excellence embedded in APDesign," de Noble said. "More importantly, the breadth of these rankings, including in skill focus areas, reflects our professions' appreciation for the comprehensive and cross-disciplinary educational model unique to APDesign. Clearly, no other program at a state institution garners such accolades across the disciplines as APDesign at K-State."

The graduate programs in APDesign also earned high marks from DesignIntelligence in several design education focus areas. The graduate architecture program ranks among the top 10 in seven of the 12 skilled focus areas and in the top four programs among public institutions in these seven focus areas. Interior architecture ranked first in all 12 categories among the Council for Interior Design Accreditation accredited programs in public universities. The landscape architecture program ranks in the top five in all 12 design focus areas, including the top ranking in two areas: construction materials and methods, and engineering fundamentals. The program ranks second, behind only Harvard University, in healthy built environments, practice management, project planning and management, and transdisciplinary collaboration across architecture, engineering and construction.

"The value professionals place on our graduates is tremendously gratifying, said Stephanie Rolley, professor and head of the landscape architecture and regional and community planning department. "Ranking at the top of all 12 focus areas of professional practice and as the No. 1 program firms hire from in our size category affirms the excellent quality of our students and faculty and the K-State approach to landscape architecture."

Along with the program honors, both de Noble and Rolley were again included on DesignIntelligence's 25 Most Admired Educators list.

"It is a true joy to help students and faculty succeed, so the Most Admired Educator recognition is especially meaningful and inspirational to me," said Rolley, who received the honor for the third time.

It is de Noble's third time to be included on the prestigious list.

"My recognition is merely a reflection of the pride I take in leading an incredible faculty and staff driven by a belief in the capacity of design to positively change our society and culture while stewarding our environment," de Noble said.

APDesign's Robert Condia, professor of architecture and fellow of the American Institute of Architects, and Howard Hahn, associate professor of landscape architecture, have previously been included in the annual most admired educator listing.

DesignIntelligence is an independent company focused on the design and construction industry. It publishes DesignIntelligence Quarterly four times per year, including the results of an industrywide survey of design professionals perceptions of design education programs released in its third quarter edition annually.