Technology Development Institute assists Heatron with manufacturing automation
Wednesday, Sept. 11, 2019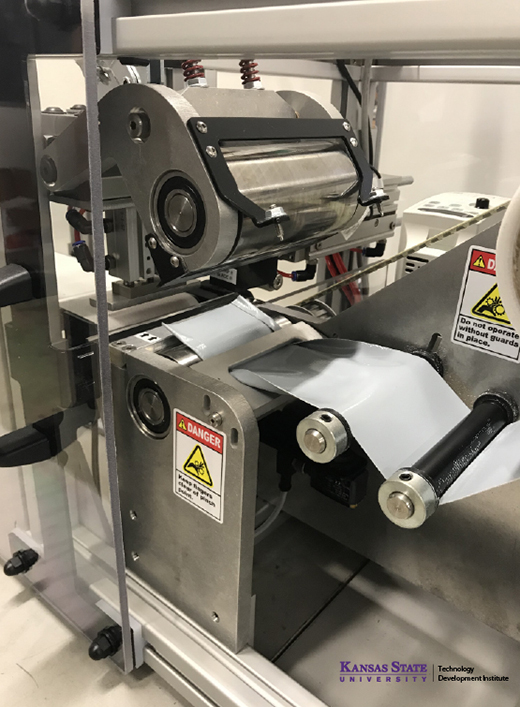 The hemming machine developed by the Technology Development Institute at Kansas State University's Carl R. Ice College of Engineering for Heatron Inc.Photo courtesy of the Technology Development Institute. | Download this photo.


MANHATTAN — A manufacturing company with a facility in Kansas is getting a boost with its production of new products by working with the Technology Development Institute in the Carl R. Ice College of Engineering at Kansas State University.
The K-State institute has worked with Heatron Inc., which has a Kansas plant in Leavenworth and another plant in Erie, Pennsylvania, on more than a dozen projects over the last several years to streamline production and increase labor efficiency in its manufacturing processes. Heatron manufactures custom heating elements and lighting products that serve a variety of markets, including medical, semiconductor, aviation, 3D printing, food service and more.

Heaton most recently engaged K-State's Technology Development Institute, known as TDI, to develop automation for the hemming and cut-to-length process of a material used to make specialized pipe heaters. The institute-developed machine folds and cuts the material to the desired length and unloads the processed piece so the operator can take it to the next step in the manufacturing process. A switch on the machine allows the operator to easily select between a continuous run mode or a set quantity run mode.

"The goal of creating this machine is to increase the production rate of the machine and better utilize the limited labor resources of the company in higher-value production processes," said Jeff Tucker, executive director of the Technology Development Institute. "By accomplishing this goal, the operator can focus on more value-added tasks, such as moving the cut material to the next station to speed up the manufacturing process."

"The engineering assistance from TDI over the years has greatly improved our efficiency," said Ron Lutz, manufacturing engineer manager at Heatron. "They recognize the challenges we face and create technologies to help us overcome them. The development effort regarding the hemming machine has been critical in improving the manufacturing process for pipe heaters."

The Technology Development Institute provides a broad range of engineering and business development services to both private industry and university researchers to advance the commercial readiness of new products or technologies. Additional information can be found at k-state.edu/tdi.