High schoolers solidify decision to become teachers at College of Education academy
Tuesday, July 16, 2019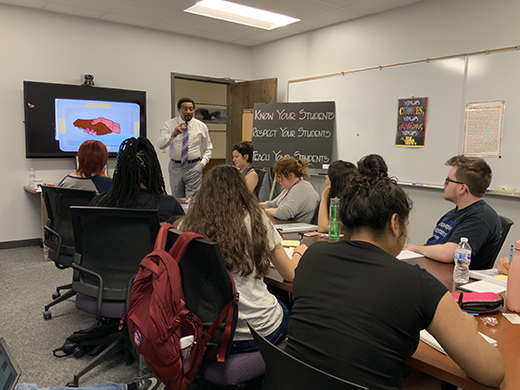 David L. Griffin, assistant dean emeritus of the Kansas State University College of Education, presents to Kansas Advanced Teacher Academy attendees. | Download this photo.


MANHATTAN — A program offered by the Kansas State University College of Education is helping high school students from across Kansas prepare for careers as teachers.
The Kansas Advanced Teacher Academy started as a pilot program in 2018 and this year attracted 25 students in grades 10-12 to Kansas State University's Manhattan campus in June for a six-day immersion program. The academy is designed to foster professional growth in high school students planning to pursue a bachelor's degree in education. The program included sessions with educators, observing current Kansas State University education majors as teachers in hands-on classes as part of the College of Education's Summer STEM Institute, and recreational activities to build comradery.

The College of Education is the largest producer of teachers in Kansas.

"The Kansas Advanced Teacher Academy is the College of Education's concerted effort to bring quality career exploration to any student in Kansas who is interested in teaching," said Todd Goodson, professor and chair of the college's curriculum and instruction department. "We believe that by reaching out to our neighbors, as well as to those in distant corners of the state, that we can be an ally in helping each community meet its need for highly prepared professional educators."

Kansas needs more teachers. In 2018, the Kansas State Department of Education reported more than 600 vacant positions at Kansas schools, mostly in rural and urban areas of the state. That's why the majority of academy participants were from Kansas City and Liberal, participating through the College of Education's K-STEP Up grant, which funds a pathway for teaching for underserved and place-bound students. The academy also attracted students from Abilene and Dodge City, as well as from St. Louis and Belgium.

"The real heart of the program was the intense curriculum being delivered by seasoned professionals who challenged academy attendees to never give up on their students and to search for novel ways to keep their students engaged," said James Alberto, academy program coordinator and an instructor of curriculum and instruction at Kansas State University.

Alberto said the College of Education's deep bench of professional educators with decades of classroom experience shared their unique perspectives, experiences and wisdom with attendees. These educators included David L. Griffin, College of Education assistant dean emeritus; and curriculum and instruction faculty members Brad Burenheide, associate professor; Socorro Herrera, professor; Sherri Martinie, associate professor; and Vicki Sherbert, assistant professor. The students also met with Debbie Mercer, dean of the College of Education; Roger Schieferecke, assistant dean; and several other faculty and staff members throughout the college.

Byron Lewis, a Kansas State University senior in elementary education from Topeka, served as program leader/activities coordinator, and Zach Cooper, agriculture education teacher at Abilene High School, served as assistant program leader.

Their advice and teachings were well-received by academy participants.

"I've always known that I wanted to be a teacher, but now I can't wait to have my own classroom and my own students," said Audrey Phelps, an academy participant from Dodge City. "Dr. David Griffin's whole presentation stuck out to me. Everything he said would help us become the teacher we want to be. He said, 'Those who didn't learn today will learn tomorrow, depending on you' and 'any teacher who chooses to make a difference will make one.'

"I've thought about those two quotes every day because it's a lot of pressure to have a classroom full of students," said Phelps, a senior at Dodge City High School. "If they fail, then you fail. But the Kansas Advanced Teacher Academy helped me realize that there are many ways to teach one concept, and that you're not alone through the teaching career."

Rosa Cano, who attends Sumner Academy in Kansas City, said, like Phelps, the academy cemented her decision to become an educator.

"I learned that students may not always have a trusting adult in their life and that's what makes teachers superheroes," Cano said. "This idea inspired me to be a teacher. At the Kansas Advanced Teacher Academy, we talked a lot about the roles of teachers in a student's life and developing skills for them that lie beyond the classroom.

"One specific lecture, we spoke about the administrative side of education and what stood out to me the most was I learned that I want to create change and affect the lives of students positively not only in, but outside of the classroom as well," Cano said. "I thank the Kansas Advanced Teaching Academy for broadening my horizons and perspective in the field of education."

More information about the Kansas Advanced Teacher Academy is available at coe.k-state.edu/future/kata/index.html or by contacting jamiea@k-state.edu. More information about the K-STEP Up program is available at coe.k-state.edu/k-step-up/index.html.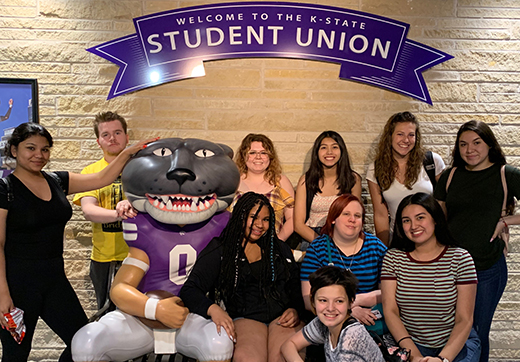 Kansas Advanced TeacherAcademy attendees, back row, from left: Mirna Linares, Ryen Buck, Amaris Carpenter, Jana Garcia, Audrey Phelps and Jasmine Najera. Middle row: Tatyanna McCray, Jesse Halula and Rosa Cano. Center front: Anna Lee. | Download this photo.