Veterinary student receives Simmons business aptitude scholarship
Tuesday, May 14, 2019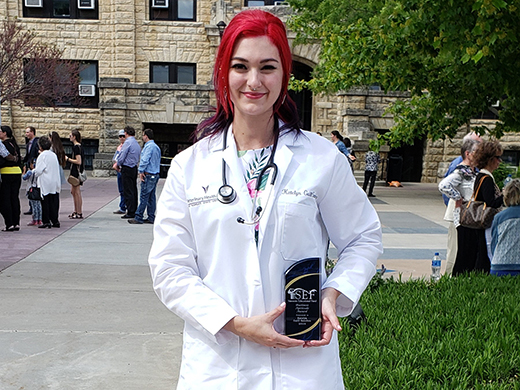 Following the White Coat Ceremony, conducted by the Veterinary Health Center at Kansas State University, fourth-year veterinary student Katelyn Guill-Sanchez celebrates being chosen for the Simmons Educational Fund Business Aptitude Award. | Download this photo.


MANHATTAN — Katelyn Guill-Sanchez, Hudson, New Hampshire, who just started her fourth year at the Kansas State University College of Veterinary Medicine, was recently selected as the university's recipient of a $3,000 national scholarship sponsored by the Simmons Educational Fund and its Business Aptitude Award Program.
Every year, the Simmons Educational Fund awards $3,000 to one veterinary student from each participating school in North America through its Business Aptitude Award Program, which provides $100,000 annually in student awards.

"I applied for the SEF Business Aptitude Award because I have developed a passion for business which has blossomed throughout vet school and my participation in the Veterinary Business Management Association," Guill-Sanchez said. "I dream of owning a mobile small animal/exotic companion animal practice and this award is a huge step toward achieving my goal."

The award is offered to third-year veterinary students at each veterinary school in the U.S. and Canada, where the awards are presented during the school's spring awards ceremonies. Recipients are chosen either by a school committee or by a Simmons regional leader. All $3,000 winners are eligible to compete for the $15,000 grand award. All regional winners submit to the Simmons Education Fund board a resume and a short essay.

The Simmons Educational Fund is a nonprofit corporation founded in 2002 by Simmons & Associates. It was created to educate practitioners and students about the business of veterinary medicine. Since its founding in 2002, the fund has reached thousands of veterinarians through its newsletters and sponsorship of speaking engagements, continuing education meetings and veterinary organizations with similar goals.