Battle of the bots: Robotics team wins regionals, on to nationals
Thursday, May 2, 2019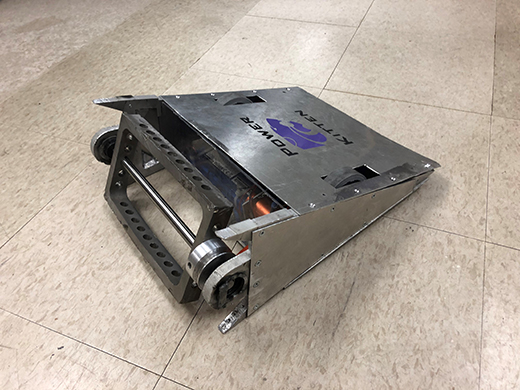 The Kansas State University Combat Robotics Squad's winning vehicle at the recent BOTSKC competition. | Download this photo.


MANHATTAN — The Combat Robotics Squad, from the Kansas State University Robotics Competition Team, took first place in the regional competition, BOTSKC, April 7 in Liberty, Missouri. The squad now qualifies for national competition May 18 in California, Pennsylvania.
The event, sponsored by the National Robotics League, is a double-elimination, single-combat battle tournament bracket. For each battle, two teams put their robots into opposite corners and the first team to break, flip or otherwise incapacitate the other robot wins. If time runs out before there is a clear winner, a panel of judges declares a winner.

The squad from the Carl R. Ice College of Engineering competed in the 15-pound weight class against 33 other entrants. In addition to head-to-head battles, teams compete in video interviews and written documentation segments.

"We fought five times in our path to second place overall in the battle section," said Isaiah Garrett, senior in computer engineering from Lawrence and president of the robotics team. "However, our stellar interviews and documentation pulled us into first place by overall points."

William Hageman, Kansas State University assistant professor of electrical and computer science, is faculty adviser for the team.

Other members of the Combat Robotics Squad include Eero Halbleib, junior in electrical engineering, Holton; Jeffrey Payne, senior in chemical engineering, Olathe; Noah Aeillo, and Andrew Haverkamp, both juniors in mechanical engineering and both from Topeka; Kyle Bannon, junior in mechanical engineering, Wichita; and Bradly Snow, senior in electrical engineering, Kansas City, Missouri.