New agreement between Kansas State University's art department, Flint Hills Technical College focuses on printmaking program
Monday, April 15, 2019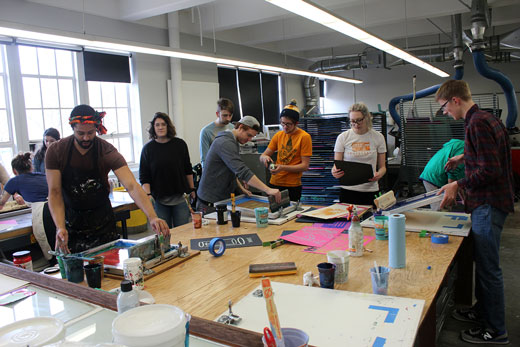 Kansas State University printmaking students screen print posters for 'Living Democracy in Print,' a collaborative exhibition celebrating diversity, in the Kemper Gallery for KSUnite 2018

. | Download this photo.

MANHATTAN — The art department in Kansas State University's College of Arts and Sciences has developed an articulation agreement with Flint Hills Technical College that will allow students who graduate from the technical school with an associate degree in graphic arts technology to seamlessly transfer into the art department's printmaking program.
The agreement takes effect for the fall 2019 semester. It allows Flint Hills Technical College students, who learn the technical side of printing and design in the college's graphic arts technology program, to take their knowledge and use it to develop their own creative visions in the Kansas State University printmaking program.
"At K-State, students master traditional print processes while also pushing the boundaries and expanding the field through digital technology and scientific innovation," said Jason Scuilla, professor of art and area coordinator of printmaking. "This articulation with Flint Hills Technical College is a great fit and amazing opportunity for students. The professional portfolio combined with the commercial skill set they'll graduate with will give them an advantage as creative professionals."
Flint Hills Technical College is the only technical college in Kansas that teaches offset commercial printing. The college's program features digital, offset and screen printing presses, in addition to finishing and bindery equipment. Students who have graduated from the program also will have completed courses in graphic design.
The technical college added courses to its requirements in order to make the transition to Kansas State University's printmaking program as easy and seamless for students as possible. As a result, when students transfer from Flint Hills Technical College to Kansas State University, they will be able to go directly into the printmaking program.
Kansas State University printmaking is built upon a rich history of traditional processes and state-of-the-art print technology. Acid etching and engraving, wood block printing, lithography, photographic silkscreen, digital, CNC, 3D, and laser-engraving print processes are open for exploration to undergraduate and graduate researchers. Graduates of the program have gone on to build successful careers as gallery-represented fine artists, commercial illustrators, creative directors, small business owners, teachers and museum specialists.
Greg LeValley, customer service specialist with University Printing, has visited Flint Hills Technical College to promote the agreement and shared with students the opportunities to work in University Printing while studying printmaking at Kansas State University.
"These students will come to K-State with the technical training required to use the machinery and be able to use it to express their own ideas in our printmaking program," Scuilla said. "This agreement is on the cutting edge of synergy between commercial printing and creative printmaking."