Graduate student from Topeka to represent university at regional Three Minute Thesis competition
Monday, March 18, 2019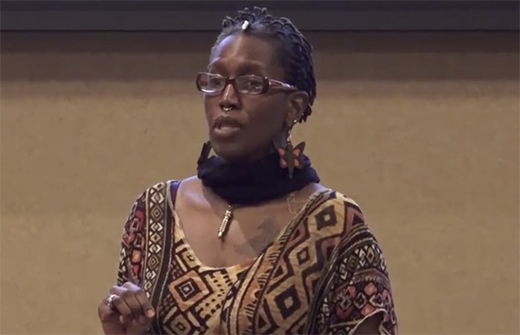 Chris Omni, Master of Public Health student, is the winner of Kansas State University's Three Minute Thesis competition.
MANHATTAN — Chris Omni, master's student in public health, Topeka, is the first-place winner of Kansas State University's Three Minute Thesis, or 3MT, competition for her presentation "Black Butterflyz: Making Black Women's Health a Capital Concern."

As the first-place winner, Omni received a $500 scholarship and will represent Kansas State University in the 2019 Midwestern Association of Graduate Schools' Three Minute Thesis Competition, March 22, in St. Louis. Omni's major professor is Emily Mailey, associate professor of kinesiology.

The Three Minute Thesis is an academic competition first developed by the University of Queensland of Australia. Competitions are now conducted at more than 600 universities in 66 countries.

Kansas State University's final competition was Feb. 21 and featured Omni and eight other finalists, who were selected from a preliminary competition on Feb. 13, which featured 26 graduate students. For the finals, participants had to explain their research in three minutes or less. Along with the time limit, finalists had to give their presentations from memory — no notes allowed — and could use just one slide in front of an audience of Manhattan community members and Kansas State University faculty and students. Judges for the event were Lonnie Baker, CEO of Meadowlark Hills; Mary Ice, K-State alumna and member of the KSU Foundation board of trustees; and Jennifer Rettele-Thomas, associate vice president of campaigns and principal gift operations for the KSU Foundation.

"3MT is all about speaking the language of the people who will be impacted most by your research," Omni said. "It's not about using words to impress your readers or listeners; it is truly about communicating impressive information that makes people want to listen. My 3MT experience helped me structure a new blog titled Blacktivate. This blog was designed to target a lay black female audience while providing relevant and relatable health research along with promising practices."

Omni looks forward to sharing her research at a regional level.

"It will be an honor to represent K-State at the Midwestern Association of Graduate Schools while continuing my journey of making black women's health a capital concern," she said. "I am not viewing this event as a competition but as another opportunity to shed light on health disparities and the importance of physical activity. In my mind, I already won! My research is on the minds of people in Kansas, and soon enough it will be on the minds of people in Missouri."

Grace Craigie, doctoral student in entomology, Buffalo, New York, won second place and $250 for her research presentation on "Fantastic Pests and How to Find Them." Her major professor is Brian McCornack, associate professor and interim head of entomology.

Craigie thinks the 3MT competition is a great opportunity to develop communication and presentation skills and to learn about other students' research.

"I feel that a critical part of science is learning to effectively communicate your research to a wide range of audiences," Craigie said. "The 3MT competition provided a means for me to practice summarizing my graduate project in a way that everyone can understand while also gaining confidence with public speaking. I was also able to listen to some amazing presentations from other students and see what they are passionate about and how they are contributing to their fields."

Narmadha Mohankumar, doctoral student in statistics, Sri Lanka, was selected by the audience as the People's Choice winner for her presentation, "Is My Advisor Hiding in Their Office?" She earned a $125 scholarship. Her major professor is Trevor Hefley, assistant professor of statistics.

"The Three Minute Thesis competition was an excellent opportunity for me to develop my communication skills for explaining my research to an audience with no background in statistics research," Mohankumar said. "Explaining scientific research in a simplified manner is always challenging. The competition allowed me to face that challenge, which I believe will significantly impact my educational and professional goals as a researcher and a statistician."

Aside from being able to effectively communicate the significance of their research in three minutes or less, the competition was a way show the importance of being able to communicate well with people outside of the participants' disciplines. Studies also show a growing trend for employees to be able to communicate highly complex information in a way that can be understood by anyone. The Three Minute Thesis competition gives the graduate students the experience to do that.

Along with Omni, Craigie and Mohankumar, the competition also featured the following finalists:

Sam Sharpe, doctoral student in biology, San Rafael, California; Erin Ward, master's student in nutrition, dietetics and sensory sciences, Brooklyn Park, Minnesota; Ashish Kumar, doctoral student in biochemistry, and Nandini Sarkar, doctoral student in chemistry, both from India; and Babita Adhikari, doctoral student in biology, and Anil Pant, doctoral student in biology, both from Nepal.

A video of the final competition, including the winning presentations, is available on the Graduate School's Three Minute Thesis webpage.