Study finds that participation in fantasy sports relates to higher levels of sports betting, online gambling
Wednesday, Nov. 14, 2018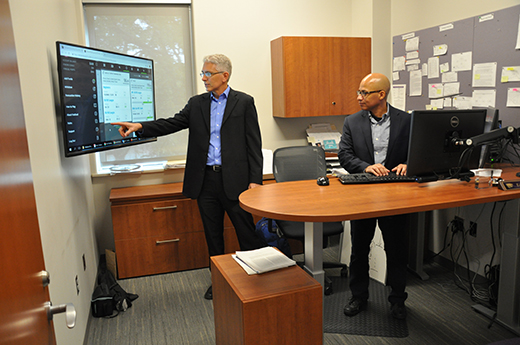 Kansas State University's Doug Walker, left, and Edward Nowlin, both associate professors of marketing, go over results from their research on whether participation in fantasy sports can lead to increased betting on sports and online gambling. | Download this photo.


MANHATTAN — Does participation in pay-to-play fantasy sports lead sports fans who may not otherwise gamble to engage in sports betting and other online gambling activities?

According to new research from Kansas State University, that could just be the case.

Fantasy sports leagues have exploded in popularity in recent years. The rise of the internet has made it easier than ever for friends, co-workers or random people from around the world to put together seasonal leagues or engage in pay-to-play daily fantasy games. According to the Fantasy Sports Trade Association, 59.3 million people in the United States and Canada participated in fantasy sports in 2017, spending more than $500 per year on average.

Coinciding with this rise in popularity come concerns about the nature of fantasy sports: Is it a game of skill that requires no oversight, or is it gambling? Thus far, fantasy sports have been exempt from the regulations on sports gambling, but with a 2018 Supreme Court decision allowing sports gambling to be regulated on a state-to-state basis, are there public policy concerns to address as sports gambling rapidly becomes more widely available?

Kansas State University associate professors of marketing Edward Nowlin and Doug Walker, along with their colleague David Houghton of Xavier University, dive into these questions in a forthcoming paper in the Journal of Public Policy and Marketing.

The paper, "From Fantasy to Reality: The Role of Fantasy Sports in Sports Betting and Online Gambling," finds interesting insights into the relationship between fantasy sports and gambling, and the impact that intersection might have on public policy concerns.

"In general, we found that the bigger the sports fan, the more likely they are to participate in pay-to-play fantasy and sports betting," Nowlin said. "The relationship doesn't end there, though. Participants in fantasy sports were twice as likely to also participate in sports betting and other forms of online gambling as those who didn't participate."

The effects of fantasy participation on other areas of gambling were especially pronounced among fans who were low in materialism — the importance given to the ownership and acquisition of material goods — a well-known precursor to gambling behavior.

"We found no evidence of a relationship between sports fanship and sports betting that did not also involve pay-to-play fantasy sports for those low in materialism," Walker said. "As a result, it appears that fans low in materialism participate in sports betting only in the presence of fantasy sports participation."

Even for those high in materialism, the process of participating in fantasy sports accounted for half of the impact of sports fanship on sports betting, and these effects held when looking at online gambling in general. While fanship directly increases participation in sports betting only for the materialistic, fanship leads to high participation rates in pay-to-play fantasy sports for everyone — materialistic or not.

"For those high in fanship, materialism doesn't determine how much they bet when they participate in sports betting, but rather how likely they are to participate in sports betting at all," Walker said. "Sports betting participation rates are 50 percent higher for materialistic fans than for nonmaterialistic fans."

The significance of these findings has only been enhanced with the recent Supreme Court decision in Murphy vs. NCAA, which allows the legality of sports betting to be determined at the state level. States and companies are ready to pounce on the estimated $150 billion wagered illegally on professional and amateur sports each year, but that raises new questions that will shape public policy on the issues in the coming years, according to Nowlin and Walker.

"Lawmakers need to identify an appropriate place for fantasy sports within the current regulatory framework, rather than relying on carve-outs and loopholes," Nowlin said. "Specifically, we recommend that regulators classify pay-to-play fantasy sports as a form of sports betting. Policymakers should also require fantasy sports companies to inform players of the true nature of these games, highlighting the potential progression to gambling and direct players to professional help should they develop a gambling problem."