Kansas State Polytechnic Flight Team places second at regional aviation competition, advances to nationals
Thursday, Oct. 25, 2018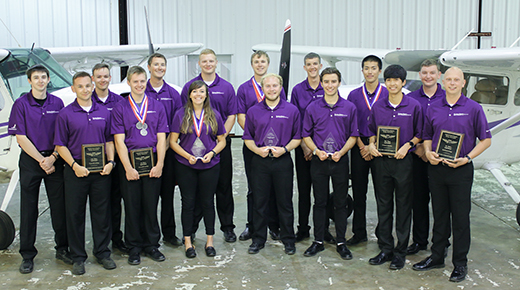 Members of the Kansas State Polytechnic Flight Team pose with their awards from the National Intercollegiate Flying Association SAFECON Region VI competition. Back row, from left: Jacob Hecker, Charles Weeks, Zach Smith, Robert Weesner, Caleb Strahm, Brent Koenigsman, Satoru Okada and Cole Thornberry; and front row, from left: Logan Klein, Marc Hinnen, team captain Maddie Perry, Grant Weldon, Conrad Giebler, Brandon Vu and Zak Kierstein. | Download this photo.


SALINA — The flight team at Kansas State University Polytechnic Campus will compete on a national level next spring after placing second in its region during an annual collegiate aviation competition.

The Kansas State Polytechnic Flight Team attended the National Intercollegiate Flying Association Safety and Flight Evaluation Conference, also known as NIFA SAFECON, Oct. 14-17, battling other colleges in their region for a chance to advance to the national championship. After participating in a variety of events consisting of tests both on the ground and in the air, the Kansas State Polytechnic Flight Team earned several individual awards and placed second overall, securing a spot at nationals in May 2019.

In preparation for regionals, the flight team had the unique responsibility of both training for the competition and helping organize the contest as this year's host. Ten universities from seven states visited the campus to compete in two different regionals. Kansas State Polytechnic faced the colleges in NIFA SAFECON's Region VI: Oklahoma State University, Southeastern Oklahoma State University, St. Louis University-Parks College, University of Central Missouri, University of Nebraska Omaha and University of Oklahoma. Minnesota State University-Mankato, University of Dubuque, University of North Dakota and University of Wisconsin challenged one another in NIFA SAFECON's Region V.

"It was such an honor to welcome other universities to our campus and connect with so many students that share the same interest in aviation," said Maddie Perry, Wichita, senior in professional pilot and captain of the flight team. "Having the competition close to home also helped our strategy: Because we weren't traveling out of state, which costs more per person, we were able to increase the number of flight team members participating and each was able to focus on the event or events they best excelled at. Overall, it was a valuable learning and networking experience and I'm proud of what this team accomplished."

The competition consisted of nine ground and flight events that ranged from determining different types of aircraft from ambiguous photos to attempting to hit a ground target from the air to landing a plane as close as possible to a specific line painted on the runway. Participants earned points for their efficiency in each event entered, which were accumulated to score single event placings as well as each team's overall performance. Winners in each category received a medal or plaque and the top three teams in each region were selected to move on to nationals.

Fifteen members competed for Kansas State Polytechnic at NIFA SAFECON and more than half of them scored in the top 10 in various events. Their individual placings are as follows:

Jacob Hecker, sophomore, Hays, eighth in Message Drop; Robert Weesner, sophomore, Leawood, eighth in Aircraft Recognition and eighth in Message Drop; Caleb Strahm, senior, Sabetha, first in Short Field Landing, second in Power-off Landing, fourth in Traditional Navigation, and eighth in Simulated Comprehensive Aircraft Navigation; Logan Klein, junior, Salina, 10th in Ground Trainer and 10th in Message Drop; Marc Hinnen, sophomore, Shawnee, first in Power-off Landing, fourth in Computer Accuracy, fourth in Short Field Landing, fourth in Traditional Navigation, seventh in Ground Trainer, and runner-up for Top Pilot; and Maddie Perry, senior, Wichita, fifth in Power-off Landing, sixth in Ground Trainer, and 10th in Short Field Landing.

Brandon Vu, freshman, Johnston, Iowa, 10th in Message Drop; Zach Smith, senior, Hendersonville, North Carolina, seventh in Navigation; and Satoru Okada, sophomore, Yokohama, Japan, second in Computer Accuracy, seventh in Navigation and eighth in Short Field Landing.

The Kansas State Polytechnic Flight Team also was selected as the safest team in both Region V and VI. Other members of the competition team include Brent Koenigsman, sophomore, Hays; Conrad Giebler, sophomore, and Grant Weldon, sophomore, both from Olathe; Cole Thornberry, junior, Troy; Zak Kierstein, junior, Erie, Colorado; and Charles Weeks, sophomore, Woodstock, Georgia.

Along with competing annually, the flight team uses its student organization as a way to give back to the community and to connect children with aviation. Throughout the year, the team is a part of several campus events like Open House and Candy Canes and Airplanes, and also conducts two aviation camps for kids and one for high school students in the summer.

For more information on the flight team, including sponsorship, contact faculty adviser Troy Brockway at 785-826-2699 or troyb@k-state.edu.