Veterinary researchers and Anivive license antiviral drug for fatal cat disease

Thursday, Sept. 20, 2018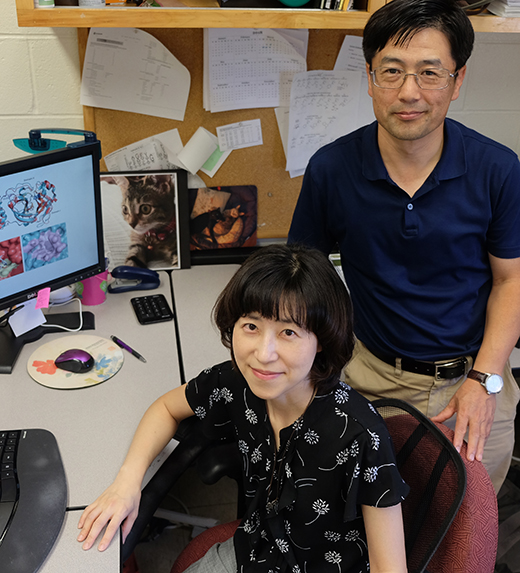 College of Veterinary Medicine virologists Yunjeong Kim, front, and Kyeong-Ok "KC" Chang are part of a collaboration working on commercial development of an antiviral compound for the deadly cat disease feline infectious peritonitis. | Download this photo.


MANHATTAN — For many cat owners, help is on the horizon with a viral cat disease that can be deadly. A new collaboration at Kansas State University is promoting the commercial development of GC376, an antiviral compound for feline infectious peritonitis, or FIP, which previously has had no effective treatment or cure.

Yunjeong Kim and Kyeong-Ok "KC" Chang, virologists in the College of Veterinary Medicine at Kanas State University, and William Groutas, a medicinal chemist at Wichita State University, have been collaborating since 2006 on the development of antiviral drugs for important human and animal viruses.

"We have been working on antiviral drugs that inhibit a specific virus protease of some important human and animal viruses, and we were able to make very potent inhibitors of FIP," Kim said. "Through collaborative work with Niels Pedersen at the University of California, Davis — including a field trial on feline patients — we became increasingly hopeful that antiviral treatment may one day substantially benefit cats with FIP. Licensing our compound to Anivive Lifesciences is a huge step forward in transitioning our research to commercialization to make this treatment available to the public."

FIP is a progressive and fatal disease caused by a feline coronavirus that can affect both domestic and wild cats. Feline coronaviruses are the cause of viral enteritis, which is typically harmless. But in rare instances, FIP can arise, spread throughout the body and cause death, particularly in cats age 2 and younger.

The licensing agreement was coordinated by the Kansas State University Institute for Commercialization with Anivive Lifesciences, a California company whose proprietary software accelerates the discovery and development process of new pet medicines.

"The team members from Anivive Lifesciences are committed to developing the compound GC376 for the treatment of FIP with a sense of urgency and we look forward to watching their progress over the coming years," said Bret Ford, associate director for licensing at the university's Institute for Commercialization.

"There are many viral diseases that affect human and animals, but antiviral drugs are available for only a number of viruses, and none has been approved specifically for animals," Chang said. "Companion animals are increasingly viewed as part of the family, so the feelings of grief over the loss of their cats by this deadly disease can be devastating and very hard to cope with."

Anivive's founder and CEO Dylan Balsz said, "FIP has long plagued veterinarians and pet owners alike and we look forward to moving this program toward an eventual approval."

"We are very excited to be working with K-State and Dr. Niels Pederson on this very important therapeutic," said David Bruyette, chief medical officer at Anivive Lifesciences. "Having been a faculty member at K-State and a former resident at UC-Davis, where I had the good fortune to work with Dr. Pedersen, makes this collaboration all the more meaningful."

The approval process, overseen by the Food and Drug Administration's Center for Veterinary Medicine, requires several steps documenting the efficacy, safety and manufacturing of the compound. The entire process and time to bring GC376 to market will now accelerate because Anivive Lifesciences and Kansas State University are working together. But researchers say it could take several years before it will be available on the market.