North Campus Corridor project finalist for 2018 University Economic Development Association award

Thursday, Aug. 16, 2018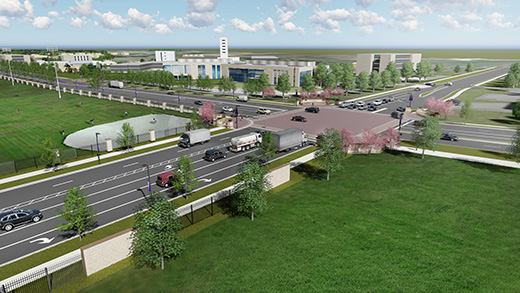 A rendering of one area of the North Campus Corridor shows enhanced aesthetics, improved pedestrian and vehicle access to the area, and other planned enhancements. The joint project between the university, the city of Manhattan, and others is a finalist for an award from the University Economic Development Association. Photo courtesy of Confluence. | Download this photo.


MANHATTAN — The master plan and progress on the North Campus Corridor project along the north end of the Kansas State University campus are receiving national attention.

The University Economic Development Association, or UEDA, has named the project a finalist in the Place category of its 2018 Awards of Excellence. The category recognizes the many and diverse ways institutions help create attractive, competitive communities

Representatives from the university, the Kansas State University Institute for Commercialization, the Kansas State University Foundation, the city of Manhattan, the Manhattan Area Chamber of Commerce, Riley County and K-State Athletics developed the collaborative North Campus Corridor plan. The project is creating an area for industry to co-locate with the university and the National Bio and Agro-defense Facility, or NBAF. The corridor is designed to support the university's research mission and create value for all.

"The North Campus Corridor will enhance the area's aesthetics and offer a gathering place for university, the public sector and the private sector," said Richard Myers, president of Kansas State University.

"The plan enables economic development that will guide our efforts and successes for years to come," Myers said.

The North Campus Corridor Master Plan comprises 13 phases to improve access, safety, infrastructure and aesthetics. Phases one through four are underway now. All phases will be complete by the time NBAF becomes operational in 2023.

University and community officials will present at the UEDA Annual Summit in Milwaukee, Wisconsin, in October.

"We're excited to have this opportunity and recognition for a true town-gown partnership that provides essential infrastructure to support economic development," said Linda Morse, mayor of Manhattan.

For more information about the UEDA awards program, visit universityeda.org/.