Happy mind, happy life: Kansas State University students rank college life high in Princeton Review
Wednesday, Aug. 8, 2018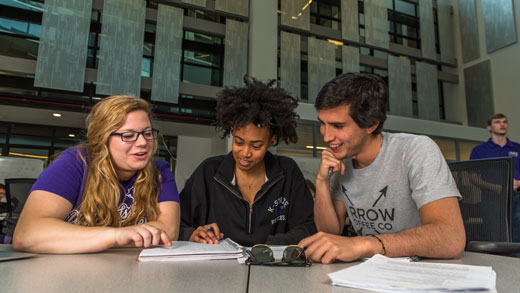 Kansas State University students say their college experience is among the best in the nation, according to The Princeton Review's "The Best 384 Colleges." | Download this photo.


MANHATTAN — The Kansas State University student experience is among the top in the nation, according to the national student-survey published by The Princeton Review.

"The Best 384 Colleges," a survey of more than 137,000 college students, lists Kansas State University students' rankings as No. 3 for great town-gown relations; No. 4 for best quality of life; No. 6 for best athletic facilities; No. 7 for best health services; and No. 8 for happiest students.

"The Princeton Review rankings show why K-State is the best value in the state and one of the best college buys in the nation," said Pat Bosco, vice president for student life and dean of students. "K-State students enjoy one of the best undergraduate experiences in the nation, a 95 percent placement rate, student loan debt below the national average and the top average starting salaries in the state. Year after year, we celebrate more quality Top 10 rankings from this survey — including one of the happiest student bodies in the nation — than any other Big 12 school."

The university's postgraduation report showed 95 percent of undergraduates were employed or continuing their education within six months of graduation. In addition, a 2018 study by SmartAsset listed K-State students as garnering the highest starting salaries in Kansas for the fourth year in a row and in 2017, Money magazine named K-State the best tuition value in the state for the second year in a row.

"All of these rankings are a tribute to our professors, academic advisers and student life staff who work tirelessly every single day to help make student success a reality for my students and the families we serve," Bosco said.

As part of the student comments collected by The Princeton Review, students said the "community is extremely important" at Kansas State University, and K-Staters are "down-to-earth and family-oriented" and "consider success in college a very important aspect of their lives." The university also is ranked No. 11 in students pack the stadiums; No. 12 in students love these colleges; No. 14 in best-run colleges; No. 15 in everyone plays intramural sports; and No. 16 in best college dorms.

The Princeton Review survey asks the students to rank schools in 62 categories. The book identifies the Top 20 schools in each category. The Princeton Review is an education services company.